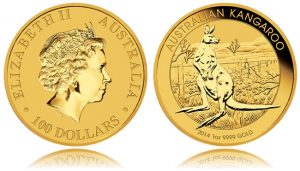 January gold and silver bullion sales by the Perth Mint of Australia picked up, according to newly released figures.
Sales of Perth Mint gold coins and gold bars reached 64,818 ounces in January, marking the strongest monthly gain since September's 68,488 ounces and a 10% increase from sales of 58,944 ounces in December.
Like U.S. Mint sales for the month, however, the total was down from the same time a year ago. The Perth Mint reported gold sales of 65,684 ounces in January 2013, or 1.3% more than last month.
Sales of Perth Mint silver coins and silver bars totaled 912,388 ounces in January, the best month since September's 961,977 ounces and a 7.9% increase from sales of 845,941 ounces in December. The sales level was 36.1% stronger than the 670,544 ounces sold in January of last year.
Last month, gold futures rose $37.50, or 3.1%, snapping a four-month losing streak. Silver futures dipped 25 cents, or 1.3%, extending its monthly losses to three straight.