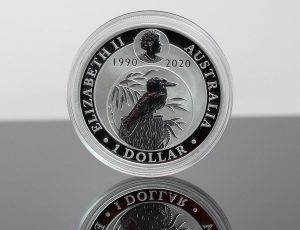 Australian silver bullion products jumped out of the gate in their start to the new year, Perth Mint sales figures for January show.
The Mint's silver sales climbed for a third straight month, registered above 1 million ounces for a six month in a row, and posted their third highest monthly total since CoinNews started tracking the Mint's data in February 2013. In contrast, the Mint's gold sales slowed significantly from December although they were higher than a year earlier.
These sales registered against a backdrop of divided precious metals with LBMA prices in January surging 4% for gold and slipping 0.9% for silver.
Bullion Sales in January 2020
Sales of The Perth Mint's gold coins and gold bars combined last month to 48,299 ounces, dropping 38.8% from December — a month that ranked fourth highest for a month since at least 2013 — while surging 54.9% from January 2019.
January sales of the Mint's silver coins and silver bars rallied to 1,450,317 ounces, marking gains of 6.5% from December and 75% from January 2019. In looking back through the Mint's sales since 2013, the monthly tally ranks only behind March 2016 sales of 1,756,238 ounces and September 2015 sales of 3,349,557 ounces.
Perth Mint Gold and Silver Sales by Month
Below is a monthly summary of Perth Mint bullion sales from January 2019 to January 2020. The figures show monthly ounces of gold and silver shipped as minted products by The Perth Mint to wholesale and retail customers worldwide. It excludes sales of cast bars and other Group activities including sales of allocated/unallocated precious metal for storage by the Depository.
Perth Mint Bullion Sales (in troy ounces)
Silver
Gold
January 2020
1,450,317
48,299
December 2019
1,361,723
78,912
November 2019
1,027,695
54,261
October 2019
1,394,615
32,469
September 2019
1,350,038
46,837
August 2019
1,171,233
21,766
July 2019
987,040
21,518
June 2019
344,474
19,449
May 2019
681,582
10,790
April 2019
906,219
19,991
March 2019
935,819
32,757
February 2019
584,310
19,524
January 2019
828,854
31,189