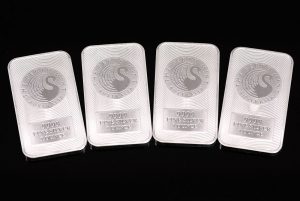 Demand for Australian bullion products increased in January from December but fell from their levels of a year ago, according Perth Mint figures published February 4, 2019.
The monthly gains were supported by surging precious metals with LBMA prices in January scoring increases of 3.3% for gold and 3.9% for silver.
Bullion Sales in January 2019
The Perth Mint's sales of gold coins and gold bars combined last month to 31,189 ounces, rising 6.9% from December but sliding 16.1% from the same month a year earlier.
January sales of of the Mint's silver coins and silver bars reached 828,854 ounces, climbing 19.6% from the previous month but dropping 22.4% from January 2018.
Perth Mint Gold and Silver Sales by Month
Below is a monthly summary of Perth Mint bullion sales from January 2018 to January 2019. The figures show monthly ounces of gold and silver shipped as minted products by The Perth Mint to wholesale and retail customers worldwide. It excludes sales of cast bars and other Group activities including sales of allocated/unallocated precious metal for storage by the Depository.
Perth Mint Bullion Sales (in troy ounces)
Silver
Gold
January 2019
828,854
31,189
December 2018
692,971
29,186
November 2018
876,446
64,308
October 2018
1,079,684
36,840
September 2018
1,305,600
62,552
August 2018
520,245
38,904
July 2018
486,821
29,921
June 2018
229,280
16,847
May 2018
557,120
14,800
April 2018
458,655
15,161
March 2018
975,921
29,883
February 2018
992,954
26,473
January 2018
1,067,361
37,174