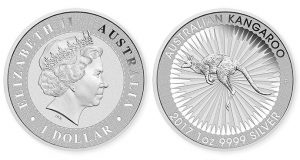 Demand jumped in January for Australian bullion coins, according to the latest round of Perth Mint sales figures.
The Mint's gold sales ran the quickest since October and its silver sales advanced the most since March.
Gains happened against rising precious metals with LBMA prices in January posting gains of 2.4% for gold and 3.5% for silver.
Bullion Sales in January 2017
January sales of Perth Mint gold coins and gold bars at 72,745 ounces logged increases of 14.7% from December and 52.3% from January 2016.
The Mint's silver sales bounced above the 1 million ounce level for the first time in three months, ending at 1,230,867 ounces to more than double the previous month. The total, however, was down 16.5% from a year earlier.
Perth Mint Gold and Silver Sales by Month
Below is a monthly summary of Perth Mint bullion sales from January 2016 to January 2017. The figures show monthly ounces of gold and silver shipped by the Minted Products division of The Perth Mint to wholesale and retail customers worldwide. It excludes sales of cast bars and other Group activities including sales of allocated/unallocated precious metal for storage by the Depository.
Perth Mint Bullion Sales (in troy ounces)
Silver
Gold
January 2017
1,230,867
72,745
December 2016
430,009
63,420
November 2016
984,622
54,747
October 2016
1,084,231
79,048
September 2016
1,031,858
58,811
August 2016
376,461
14,684
July 2016
693,447
16,870
June 2016
1,220,817
31,368
May 2016
974,865
21,035
April 2016
1,161,766
47,542
March 2016
1,756,238
47,948
February 2016
1,049,062
37,063
January 2016
1,473,408
47,759