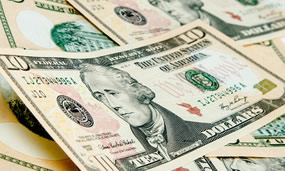 Less money was printed by the U.S. government in December than a month earlier, and the total value of the bills made was also lower, data from the agency responsible for manufacturing U.S. currency shows.
This up and down monthly pattern has recurred since September.
342.56 million in $1s, $10s, $20s and $100s were printed last month for a total value of just over $10.6 billion, according to December production figures released by the Bureau of Engraving and Printing (BEP).
In month-over-month comparisons, the quantity of banknotes declined 36.8% and the total dollar value fell 32.9%. The type of banknotes printed in December matched those from the prior month, excluding a unique run of $2 bills in November. The biggest differences for the month resulted from 109.14 million fewer $1s, 44.8 million fewer $100s and 32 million fewer $20s. Alone in gaining, by 6.4 million, were $10s.
Here are reports from the BEP showing the type of banknotes manufactured during the month:
December 2013 BEP Money Production
Facility at Washington, DC
Facility at Fort Worth, TX
Last month the BEP produced 9.6 million $1 star notes. These are referenced by the "*" designator in the above money production charts. Star notes are replacements for misprinted notes or certain serial numbers, like 000 000 000. Money collectors find them more desirable since they are more difficult to find.
The following table lists the type, the amount and the total value of notes printed by the BEP in November:
Banknotes by Denomination: Total Printed and Values
December 2013
| | | |
| --- | --- | --- |
| Banknotes | Total Printed | Total Value ($) |
| $1.00 | 124,960,000 | 124,960,000 |
| $2.00 | 0 | 0 |
| $5.00 | 0 | 0 |
| $10.00 | 51,200,000 | 512,000,000 |
| $20.00 | 83,200,000 | 1,664,000,000 |
| $50.00 | 0 | 0 |
| $100.00 | 83,200,000 | 8,320,000,000 |
| Totals | 342,560,000 | 10,620,960,000 |
For comparison, four prior monthly money production tables are below:
November 2013
| | | |
| --- | --- | --- |
| Banknotes | Total Printed | Total Value ($) |
| $1.00 | 234,100,000 | 234,100,000 |
| $2.00 | 19,840,000 | 39,680,000 |
| $5.00 | 0 | 0 |
| $10.00 | 44,800,000 | 448,000,000 |
| $20.00 | 115,200,000 | 2,304,000,000 |
| $50.00 | 0 | 0 |
| $100.00 | 128,000,000 | 12,800,000,000 |
| Totals | 541,940,000 | 15,825,780,000 |
October 2013
| | | |
| --- | --- | --- |
| Banknotes | Total Printed | Total Value ($) |
| $1.00 | 192,000,000 | 192,000,000 |
| $5.00 | 19,200,000 | 96,000,000 |
| $10.00 | 96,000,000 | 960,000,000 |
| $20.00 | 128,480,000 | 2,569,600,000 |
| $50.00 | 3,200,000 | 160,000,000 |
| $100.00 | 3,200,000 | 320,000,000 |
| Totals | 442,080,000 | 4,297,600,000 |
September 2013
| | | |
| --- | --- | --- |
| Banknotes | Total Printed | Total Value ($) |
| $1.00 | 332,800,000 | 332,800,000 |
| $5.00 | 169,600,000 | 848,000,000 |
| $10.00 | 2,176,000 | 21,760,000 |
| $20.00 | 6,400,000 | 128,000,000 |
| $50.00 | 57,600,000 | 2,880,000,000 |
| $100.00 | 615,040,000 | 61,504,000,000 |
| Totals | 1,183,616,000 | 65,714,560,000 |
August 2013
| | | |
| --- | --- | --- |
| Banknotes | Total Printed | Total Value ($) |
| $1.00 | 192,000,000 | 192,000,000 |
| $5.00 | 83,200,000 | 416,000,000 |
| $10.00 | 0 | 0 |
| $20.00 | 0 | 0 |
| $50.00 | 0 | 0 |
| $100.00 | 313,920,000 | 31,392,000,000 |
| Totals | 589,120,000 | $32,000,000,000 |