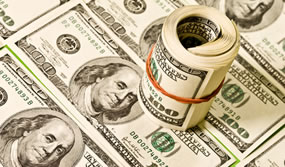 The U.S. government printed less money in June than in May, according to newly released figures from the agency responsible for manufacturing U.S. currency.
462.4 million banknotes were printed in June 2013 for a total of $26,212,800,000, data released Tuesday by the Bureau of Engraving and Printing (BEP) shows. The amount of bills and value of them were both lower than in May when 669.792 million notes worth more than $39.49 billion were printed.
Last month the BEP printed $1s, $5s, $10s and $100s. In May the BEP also printed $20s. Here are printouts of the reports from the BEP showing the type of banknotes printed.
June 2013 BEP Money Production
Facility at Washington, DC
Facility at Fort Worth, TX
The BEP produced millions of $5 and $100 star notes. Those are referenced by the "*" indicators in the above production charts. Star notes are replacements for misprinted notes or certain serial numbers, like 000 000 000. Money collectors generally find them more desirable since they are harder to find.
Banknotes by Denomination, Total Printed and Values
June 2013
| | | |
| --- | --- | --- |
| Banknote Denomination | Total Printed | Total Value ($) |
| $1.00 | 64,000,000 | 64,000,000 |
| $5.00 | 71,360,000 | 356,800,000 |
| $10.00 | 76,800,000 | 768,000,000 |
| $20.00 | 0 | 0 |
| $50.00 | 0 | 0 |
| $100.00 | 250,240,000 | 25,024,000,000 |
| June 2013 Totals | 462,400,000 | $26,212,800,000 |
For comparison, the previous monthly production figures are shown below:
May 2013
| | | |
| --- | --- | --- |
| Banknote Denomination | Total Printed | Total Value ($) |
| $1.00 | 134,400,000 | 134,400,000 |
| $5.00 | 44,800,000 | 224,000,000 |
| $10.00 | 70,400,000 | 704,000,000 |
| $20.00 | 44,800,000 | 896,000,000 |
| $50.00 | 0 | 0 |
| $100.00 | 375,392,000 | 37,539,200,000 |
| May 2013 Totals | 669,792,000 | $39,497,600,000 |