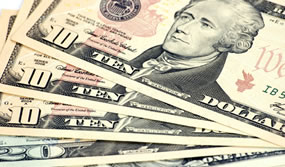 Much less money was printed in October by the United States government and the total value of the bills made plunged from September, data from the agency responsible for manufacturing U.S. currency shows.
442.08 million in $1s, $5s, $10s, $20s, $50s and $100s were printed last month for a total value of almost $4.3 billion, according to October production figures released Thursday by the Bureau of Engraving and Printing (BEP). Compared to September, that marks a 62.7% drop in how many banknotes were made and a 93.5% dive in combined value.
Far more $10s and $20s were produced in October but totals for other denominations plunged. The biggest change affecting both the number and value totals was the lack of $100s. In October, the BEP made just 3.2 million of them. In contrast, the amount in September swelled to more than 615 million when the bureau was augmenting its inventory of the newly designed $100s in preparation for their release on October 8.
Here are reports from the BEP showing the type of banknotes manufactured during the month:
October 2013 BEP Money Production
Facility at Washington, DC
Facility at Fort Worth, TX
The BEP produced millions of star notes in denominations of $20s. These are referenced by the "*" designator in the above money production charts. Star notes are replacements for misprinted notes or certain serial numbers, like 000 000 000. Money collectors generally find them more desirable since they are harder to find.
The following table lists the type, the amount and the total value of notes printed by the BEP in September:
Banknotes by Denomination: Total Printed and Values
October 2013
| | | |
| --- | --- | --- |
| Banknotes | Total Printed | Total Value ($) |
| $1.00 | 192,000,000 | 192,000,000 |
| $5.00 | 19,200,000 | 96,000,000 |
| $10.00 | 96,000,000 | 960,000,000 |
| $20.00 | 128,480,000 | 2,569,600,000 |
| $50.00 | 3,200,000 | 160,000,000 |
| $100.00 | 3,200,000 | 320,000,000 |
| Totals | 442,080,000 | 4,297,600,000 |
For comparison, previous monthly money production figures are below:
September 2013
| | | |
| --- | --- | --- |
| Banknotes | Total Printed | Total Value ($) |
| $1.00 | 332,800,000 | 332,800,000 |
| $5.00 | 169,600,000 | 848,000,000 |
| $10.00 | 2,176,000 | 21,760,000 |
| $20.00 | 6,400,000 | 128,000,000 |
| $50.00 | 57,600,000 | 2,880,000,000 |
| $100.00 | 615,040,000 | 61,504,000,000 |
| Totals | 1,183,616,000 | 65,714,560,000 |
August 2013
| | | |
| --- | --- | --- |
| Banknotes | Total Printed | Total Value ($) |
| $1.00 | 192,000,000 | 192,000,000 |
| $5.00 | 83,200,000 | 416,000,000 |
| $10.00 | 0 | 0 |
| $20.00 | 0 | 0 |
| $50.00 | 0 | 0 |
| $100.00 | 313,920,000 | 31,392,000,000 |
| Totals | 589,120,000 | $32,000,000,000 |
July 2013
| | | |
| --- | --- | --- |
| Banknotes | Total Printed | Total Value ($) |
| $1.00 | 204,800,000 | 204,800,000 |
| $5.00 | 70,400,000 | 352,000,000 |
| $10.00 | 0 | 0 |
| $20.00 | 0 | 0 |
| $50.00 | 0 | 0 |
| $100.00 | 249,600,000 | 24,960,000,000 |
| Totals | 524,800,000 | $25,516,800,000 |
June 2013
| | | |
| --- | --- | --- |
| Banknotes | Total Printed | Total Value ($) |
| $1.00 | 64,000,000 | 64,000,000 |
| $5.00 | 71,360,000 | 356,800,000 |
| $10.00 | 76,800,000 | 768,000,000 |
| $20.00 | 0 | 0 |
| $50.00 | 0 | 0 |
| $100.00 | 250,240,000 | 25,024,000,000 |
| Totals | 462,400,000 | $26,212,800,000 |
May 2013
| | | |
| --- | --- | --- |
| Banknotes | Total Printed | Total Value ($) |
| $1.00 | 134,400,000 | 134,400,000 |
| $5.00 | 44,800,000 | 224,000,000 |
| $10.00 | 70,400,000 | 704,000,000 |
| $20.00 | 44,800,000 | 896,000,000 |
| $50.00 | 0 | 0 |
| $100.00 | 375,392,000 | 37,539,200,000 |
| Totals | 669,792,000 | $39,497,600,000 |