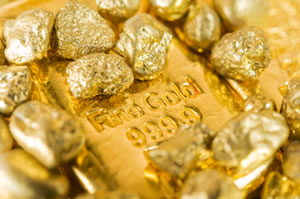 Gold retreated Tuesday after an unchanged reading from the previous day that followed a five-session winning streak where the yellow metal logged its biggest weekly increase since January.
Gold for December delivery declined $6.10, or 0.4%, to close at $1,724.80 an ounce on the Comex in New York. Gold traded between intraday levels of $1,717.60 and $1,733.30. Pressure came from a firmer U.S. dollar.
"Comex gold prices ended the U.S. day session moderately lower Tuesday. Bearish 'outside markets' limited buying interest in the gold and silver markets, as the U.S. dollar index was firmer, while crude oil prices were weaker," noted Jim Wyckoff in the P.M. Kitco Metals Roundup. "Gold and silver have seen some mild profit taking and chart consolidations occur early this week, following last week's good gains."
Precious metals surged last week with gains of 3.3% for gold, 5.7% for silver, 0.9% for platinum and 1.9% for palladium.
Also on Tuesday, silver for December delivery lost 3.5 cents, or 0.11%, to $32.487 an ounce. The white metal ranged from $32.10 to $32.83.
PGM's, on-the-other-hand, posted significant daily gains.
Platinum for January delivery advanced $19.90, or 1.3%, to $1,586.40 an ounce, trading between $1,557.40 and $1,595.00.

Palladium for December delivery rallied $28.55, or 4.7%, to $636.60 an ounce, ranging from $606.00 to $614.45.
The two metals were supported by forecasts from Johnson Matthey that show supplies will fall short of demand this year.
London Bullion Prices
Precious metals in London moved in the same direction as futures in New York. In contrasting the latest London PM Fix prices:
Gold declined $9.00, or 0.5%, to $1,726.25 an ounce,
Silver fell 5.0 cents, or 0.2%, to $32.58 an ounce,
Platinum advanced $18.00, or 1.1%, to $1,585.00 an ounce, and
Palladium gained $6.00, or 1.0%, to $617.00 an ounce
US Bullion Coin Sales in November
The U.S. Mint registered strong gains Tuesday for its bullion products following an extended three-day weekend. While the first half of November is still a few days ahead, bullion sales for the month are well more than half higher than the very robust levels logged in October.
Each of the Mint's major bullion products advanced Tuesday. In another notable, the bureau's American Silver Eagle coin topped 31 million in sales this year. That has occurred only twice before in the 99.9% fine silver coin's 26-year history.
Shown below are the latest daily, November and year-to-date bullion coin sales as provided by the U.S. Mint.
US Mint American Eagle and Buffalo Bullion Coin Sales
Daily Sales
November Sales
YTD 2012
$50 American Gold Eagle Coin
3,500
39,500
504,000
$25 American Gold Eagle Coin
1,000
1,000
64,000
$10 American Gold Eagle Coin
0
2,000
68,000
$5 American Gold Eagle Coin
5,000
15,000
295,000
$50 American Buffalo Gold Coins
1,000
6,000
113,500
American Silver Eagle Coin
647,500
2,195,500
31,143,500
America the Beautiful 5 Oz. Silver Bullion Coin Sales
Daily Sales
November Sales
All-Time Total
2012 El Yunque National Forest 5 oz. Silver Bullion Coins
500
1,800
19,900
2012 Chaco Culture National Historical Park 5 oz. Silver Bullion Coins
500
1,800
20,000
2012 Acadia National Park 5 oz. Silver Bullion Coins
500
500
22,300
2012 Hawai'i Volcanoes 5 oz. Silver Bullion Coins
0
5,000
20,000
2012 Denali National Park 5 oz. Silver Bullion Coins
0
2,500
15,000
2011 Olympic National Park 5 oz. Silver Bullion Coins
0
0
85,900
2011 Vicksburg National Military Park 5 oz. Silver Bullion Coins
0
0
39,500
2011 Chickasaw Park 5 oz. Silver Bullion Coins
0
0
29,700
TOTAL
1,500
11,600
252,300
Coin sales listed above are in the number of bullion coins sold, not the amount of ounces.