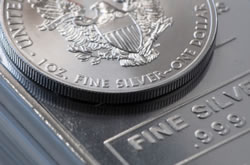 Gold and other precious metals declined Monday as the U.S. dollar firmed and investors booked profits, opined analysts.
At the same time, demand surged stronger for bullion coins produced by the U.S. Mint. American Silver Eagle coins, in particular, shot past 3.1 million in sales with September claiming the second highest monthly total of the year.
In starting the new trading week, gold prices for December delivery declined $13.40, or 0.8%, to $1,764.60 an ounce on the Comex in New York. Intraday trading occurred between price points of $1,757.90 and $1,775.30. The yellow metal has gained 12.6% in 2012.
"Double-digit gains for the quarter are going to be attractive for people to book their gains," Bloomberg quoted Nick Trevethan, senior commodities strategist at Australia & New Zealand Banking Group Ltd.

"With prices up near the highs for the year on Sept. 21, and the market seemingly not able to push through $1,800, it's fair to say some people are cashing in."
Gold was the lone precious metal to advance last week — its fifth straight, but the increase was modest at 0.3%.
"There is no question that gold is consolidating its recent gains, but every dip seems to be bought," Reuters quoted Anthony Neglia, president of Tower Trading and COMEX gold options floor trader.
In other New York precious metals prices:
Silver for December delivery fell 65.4 cents, or 1.9%, to close at $33.984 an ounce. Silver prices ranged from an intraday low of $33.630 to a high of $34.585.

Platinum for October delivery settled at $1,622.00 an ounce, falling $15.60 or 1.0%. The PGM metal traded between $1,608.00 and $1,637.10

Palladium for December delivery plummeted $26.05, or 3.9%, to $645.50 an ounce, ranging from $633.80 to $675.85.
Last week, the three precious metals logged losses of 0.1% for silver, 4.4% for platinum and 4.0% for palladium.
London Bullion Prices
Precious metals in London were lower as well on Monday. In contrasting the most recent London PM Fix prices:
Gold shed $22.00, or 1.2%, to $1,762.50 an ounce,
Silver declined 96.0 cents, or 2.8%, to $33.73 an ounce,
Platinum lost $34.00, or 2.1%, to $1,608.00 an ounce, and
Palladium fell $36.00, or 5.4%, to $636.00 an ounce
Last week, gold advanced 0.5% with the other precious metals recorded losses of 0.1% for silver, 3.2% for platinum and 4.3% for palladium.
U.S. Mint Bullion Coins
The United States Mint registered a robust day of sales as all of its key bullion coins advanced.
In a milestone, the bureau's American Silver Eagle coins have already hit 3.125 million for September to surpass sales from each of the previous seven months. The achievement came quick, as just shy of 2 million were purchased in the last six business days alone. U.S. Mint distributors ordered 850,000 on Monday.
22-karat American Gold Eagle coins rallied by 10,000 ounces, lifting their September total to 55,000 ounces. That is better than five past months, including the previous two with August at 39,000 ounces and July at 30,500 ounces.
American Gold Buffalo and ATB five ounce silver coins advanced as well. Their sales and others are shown in the following grid of latest daily, September and year-to-date bullion figures as published by the U.S. Mint.
Sales of US Mint American Eagle and Buffalo Bullion Coins
Daily Gains
September Gains
YTD 2012
$50 American Eagle Gold Coins
9,500
51,500
399,000
$25 American Eagle Gold Coins
1,000
2,000
61,000
$10 American Eagle Gold Coins
0
2,000
60,000
$5 American Eagle Gold Coins
0
20,000
235,000
$50 American Buffalo Gold Coins
1,000
8,000
96,000
American Silver Eagle Coins
850,000
3,125,000
25,665,000
Sales of America the Beautiful 5 Oz. Silver Bullion Coins
Daily Gains
September Gains
All-Time Total
2012 El Yunque National Forest 5 oz. Silver Coins
1,200
1,200
17,900
2012 Chaco Culture National Historical Park 5 oz. Silver Coins
0
0
17,000
2012 Acadia National Park 5 oz. Silver Coins
200
2,900
18,000
2012 Hawai'i Volcanoes 5 oz. Silver Coins
0
10,400
10,400
2011 Olympic National Park 5 oz. Silver Coins
0
0
85,900
2011 Vicksburg National Military Park 5 oz. Silver Coins
0
0
39,500
2011 Chickasaw Park 5 oz. Silver Coins
0
0
29,700
TOTAL
1,400
14,500
214,400
Sales figures above are in the number of coins sold, not in the amount of ounces sold.