The opening demand for 2010 Proof American Gold Eagles soared past prior-year issues, according to the latest round of gold coin sales figures from the United States Mint.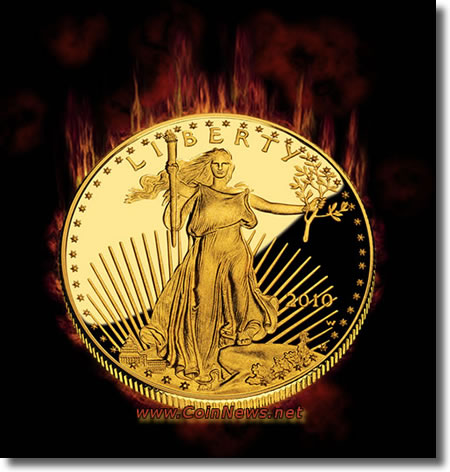 Anticipation spurred one-ounce Gold Eagle sales the most. Buyers snapped up nearly one-third of their authorized mintage in only four days. All sizes burst past the debuting performance of the 2008 issues, which was the last year the 22-karat gold pieces were available.
The five 2010-W Proof Gold Eagle products were released Thursday, October 7, 2010. The U.S. Mint's proof gold inventory dropped 58,631 by Sunday, with collectors handing over $47.3+ million to get them. The following table shows how many remain:
2010 Proof Gold Eagle Opening Sales
PRICE
4-DAY
SALES
PRODUCT
LIMIT
MINTAGE
LIMIT
1 oz
$1,585.00
13,980
25,000
64,000
1/2 oz
$806.00
2,173
15,000
54,000
1/4 oz
$415.50
2,780
16,000
55,000
1/10 oz
$180.50
6,945
27,000
66,000
4-Coin Set
$2,938.00
7,147
39,000
N/A
While a comparison to the opening sales figures for the 2009 Proof Gold Eagles is impossible since they were canceled, debuting numbers for the 2008 proofs were cooler despite their less expensive prices and two extra days added in before their sales were first reported by the Mint (debuting 6-day sales figures cover from Tuesday, March 4, 2008, to Sunday, March 9, 2008).
2008 Proof Gold Eagle Sales: Opening and Final
PRICE
6-DAY
OPENING
SALES
PRODUCT
LIMIT
FINAL
SALES
FIGURES
1 oz
$1,199.95
3,120
25,000
17,720
1/2 oz
$609.95
598
15,000
10,085
1/4 oz
$329.95
518
16,000
6,360
1/10 oz
$149.95
1,347
30,000
15,599
4-Coin Set
$2,199.95
1,691
35,000
12,517
2010 Proof Gold Eagle price points look to be a factor in future sales. The Mint can change gold coin prices depending on the prevailing cost of the precious metal. The current London Fix gold range used to set their current prices is $1,300 to $1,349.99 an ounce. Since the eagles were released, levels remained under the $1,350 threshold for all but one fixing. However, gold prices as of this writing are soaring to fresh all-time highs, with current spot at $1,370.50. If prices remain in this area (above $1,350) for a week, the Mint will increase the Gold Eagles by $50 for the one ounce, $25 for the half ounce, $12.50 for the quarter ounce, $5 for the tenth ounce and $92.50 for the four-coin set.
2010 Proof American Gold Eagle coins may be ordered online through the:
U.S. Mint American Eagle Product Page
Orders may also be placed using the Mint's toll free number 1-800-USA-MINT (872-6468).