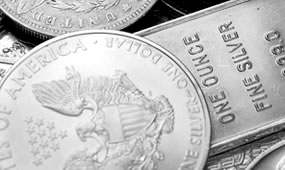 Gold ended lower Friday and snapped a string of three weekly increases but it still scored a second straight monthly gain. The story was similar for silver.
U.S. Mint bullion coins, on the other hand, split. Demand in February was strong for the bureau's silver coins but softened significantly for gold coins.
In returning to precious metals, gold for April delivery on Friday declined $10.20, or 0.8%, to settle at $1,321.60 an ounce on the Comex division of the New York Mercantile Exchange. Gold prices fell 0.2% on the week yet soared 6.6% in February.
"In general whether it's Ukraine, the U.S. economic data or worries about China, there seem to be a lot more reasons than there were six weeks ago for looking at gold," Reuters quoted Nomura analyst Tyler Broda.
Gold Outlook and YTD Gains
Majority participants in last week's gold survey by Kitco News missed the mark with their expectations of rising prices this week, bringing down their forecast accuracy to seven in the last nine weeks. Most participants in Kitco's latest survey have turned bearish for gold prices next week.
"In the Kitco News Gold Survey, out of 33 participants, 19 responded this week. Six see prices up, while 12 see prices down and one sees prices trading sideways or neutral," reports Kitco News.

"Several survey participants forecast lower gold prices for next week, saying that the yellow metal is due for a correction… A few others point out a lack of physical buying in Asian markets as prices rose will hamper gold rallies… Participants who see higher prices said the near-term technical-chart trend remains fairly robust."
Gold prices for the year so far have jumped $119.30, or 9.9%, since ending last year at $1,202.30 an ounce.
Silver, Platinum and Palladium Futures
Silver tumbled 2.5% this week. Despite that, it performed the best among precious metals in February with a 11.1% surge. The white metal has notched a hefty 9.7% pick-up on the year-to-date.
"Silver is finding its own support independent of gold due to strong buying from China and India and an increase in industrial production of electronics," including smart phones, MarketWatch quoted Paul Jovanovich, author of Precious Metals Investing For Dummies. "Rising demand and shaky supply bode well for a silver rally."
On Friday, silver for May delivery fell 11 cents, or 0.5%, to close at $21.24 an ounce.
PGMs split Friday but gained on the week and in February. In their latest breakdowns:
April platinum slipped $6.60, or 0.5%, to end at $1,446.80 an ounce.

Palladium for June delivery edged up 60 cents to close at $744.45 an ounce.
In their weekly results, gains totaled 1.3% for platinum and 0.6% for palladium. Monthly increases hit 5.2% for platinum and 5.9% for palladium.
London Fix Precious Metals
London precious metals fixing were mixed on Friday and for the week but advanced in February. When comparing the London fix prices from Thursday PM to Friday PM:
Gold fell $5.75, or 0.4%, to $1,326.50 an ounce,
Silver declined 11 cents, or 0.5%, to $21.27 an ounce,
Platinum rose $8, or 0.6%, to $1,455 an ounce, and
Palladium added $3, or 0.4%, to $746 an ounce
For the week, silver shed 2.2% while the other metals logged increases of 0.2% for gold, 2.3% for platinum and 0.9% for palladium. Monthly gains totaled 6% for gold, 10.2% for silver, 5.3% for platinum and 5.5% for palladium.
US Mint Bullion Coin Sales in February
U.S. Mint bullion demand soared this week for American Silver Eagles with sales of 1.25 million, the highest since the debut week of the newly dated 2014 issues. Sales retreated for the bureau's gold coins, up 7,000 ounces in total this week compared to last week's 13,500 ounces.
As for February, CoinNews.net will publish a more detailed analysis later, but in summary:
American Eagle gold coins rose 31,000 ounces for the month, down from 91,500 ounces in January when the new 2014-dated versions launched and well lower than the 80,500 ounces from February 2013.

2014 American Eagle silver coins advanced 3,750,000 in February, down from their debut month of 4,775,000 in January. Coin sales during both months have been rationed by the Mint. Sales during the same time last year were lower at 3,368,500.

American Buffalo gold coins rose 12,000 for the month, much lower than the 41,500 in January but a tad higher than the 11,500 from February 2013.
Below is a sales breakdown across U.S. Mint bullion products with columns offering the number of bullion coins sold this week, last week, in February 2014, in January 2014 and for the year-to-date.
American Eagle and Buffalo Bullion Sales (# of coins)
Friday Sales
Weekly Sales
Sales Last Week
February Sales
January Sales
YTD Sales
$50 American Eagle Gold Bullion Coins
3,000
5,000
10,000
22,000
62,500
84,500
$25 American Eagle Gold Bullion Coins
1,000
1,000
0
3,000
12,000
15,000
$10 American Eagle Gold Bullion Coins
2,000
2,000
0
10,000
28,000
38,000
$5 American Eagle Gold Bullion Coins
0
5,000
15,000
50,000
160,000
210,000
$50 American Buffalo Gold Bullion Coins
0
500
2,000
12,000
41,500
53,500
American Eagle Silver Bullion Coins
78,500
1,250,000
750,000
3,750,000
4,755,000
8,525,000