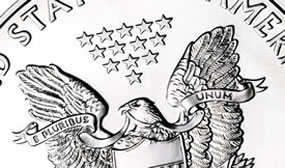 Gold and silver retreated Monday, extending their streak of back and forth action. The two metals have rotated between gains and losses in succeeding sessions since June 6.
In starting the trading week, gold for August delivery fell $4.50, or 0.3%, to settle at $1,383.10 an ounce on the Comex in New York. The precious metal traded from an intraday low of $1,379.80 to a high of $1,391.40.
Trading volume was light Monday as investors await the outcome of the Fed's monthly monetary policy meeting which starts on Tuesday and ends on Wednesday.
"People are looking for more clarity – or not, as the case may be – on whether the Fed starts to ease off the Quantitative Easing bandwagon," SocGen analyst Robin Bhar was quoted on Reuters.
Gold prices last week edged up 0.3%, supported by Friday's 0.7% increase.
Silver tracked gold with July futures down 19.6 cents, or 0.9%, to $21.76 an ounce. Prices ranged from $21.61 to $22.06. Silver advanced 1.7% on Friday and 1% last week.
In PGM futures on Monday:
Platinum shed $12.60, or 0.9%, to $1,434.80 an ounce, trading between $1,432.00 and $1,454.20.

Leading losses among precious metals, palladium for September delivery declined $13.85, or 1.9%, to close at $717.85 an ounce. Prices ranged from $713.85 to $733.40.
Last week both metals fell, platinum by 3.7% and palladium by 3.9%.
London Fix Precious Metals
London precious metals fixings split Monday with silver higher and the others lower. In contrasting the Friday PM to Monday PM London Fix prices:
Gold dipped $6.50, or 0.5%, to $1,384.75 an ounce,
Silver added 18.0 cents, or 0.8%, to $21.87 an ounce,
Platinum declined $5, or 0.3%, to $1,443 an ounce, and
Palladium shed $7, or 1%, to $721 an ounce
Last week gold was the only precious metal higher in London, up 0.4%. Declining were silver by 4%, platinum by 3.8% and palladium by 3.4%.
US Bullion Coin Sales in June
Sales advanced for every major bullion coin produced by the U.S. Mint. In total, gold coins rose 2,000 ounces and silver coins gained 633,000 ounces.
In a fresh milestone, American Silver Eagle bullion coins topped year-to-date sales of 24 million. The Silver Eagle annual sales record at just under 40 million coins happened in 2011. That year, it took until July 18, 2011 for sales to reach above 24 million. Last year sales did not hit the mark until September 17, 2012.
The following are daily, June and year-to-date bullion coin totals as provided by the United States Mint.
American Eagle and Buffalo Bullion Coin Sales
Monday Sales
Last Week
June Sales
YTD Sales
$50 American Eagle Gold Bullion Coins
1,000
3,500
18,500
514,000
$25 American Eagle Gold Bullion Coins
0
0
0
42,000
$10 American Eagle Gold Bullion Coins
2,000
0
2,000
80,000
$5 American Eagle Gold Bullion Coins
0
15,000
45,000
405,000
$50 American Buffalo Gold Bullion Coins
500
2,500
7,500
152,000
White Mountain 5 oz. Silver Bullion Coins
0
1,200
1,200
27,000
Perry's Victory 5 oz. Silver Bullion Coins
300
5,900
14,200
14,200
American Silver Eagle Bullion Coins
631,500
846,000
2,259,500
24,028,000
Figures above are in the number of coins sold, not in ounces.