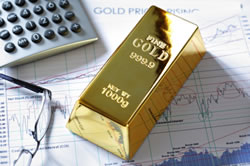 Gold and silver rebounded sharply Friday after three straight daily losses, but only silver managed to cross into positive territory this week.
Among weekly prices, gold edged down 0.5% while other precious metals posted gains of 1.1% for silver and palladium and 0.4% for platinum.
On Friday, gold prices for December delivery jumped $18.60, or 1.2%, to $1,609.30 an ounce. The yellow metal traded between an intraday low of $1,588.50 and a high of $1,609.90. Gold has gained 2.7% in 2012.
Prices surged Friday after U.S. employment data showed improved hiring last month but also rising unemployment.
"Traders think that the Fed is watching the unemployment rate very closely, and that will determine the timing of the stimulus," Phil Streible, a senior commodity broker at R.J. O'Brien & Associates in Chicago, said in a telephone interview that was relayed on Bloomberg. "Some people may move to gold before the Fed makes an announcement."
Precious metals were hit Wednesday and then Thursday over disappointment that the Federal Reserve and ECB failed to offer investor-desired stimulus measures after monetary policy meetings. Speculators now position that the Fed could make a move in September.
Gold Surveys Bullish for Next Week
Separate weekly surveys released by Bloomberg News and Kitco News are bullish trending for gold next week.
"In the Kitco News Gold Survey, out of 32 participants, 21 responded this week. Of those 21 participants, 12 see prices up, while four see prices down, and five are neutral or see prices moving sideways," reports Kitco News.

"Participants who see higher prices next week said they see the market attempting to test the higher part of the recent trading range, with a move to $1,625 to $1,630 possible. With decisions by the Federal Reserve and European Central Bank out of the way, many are now looking to September and suggesting that's when central banks will start new stimulus programs…"
Bloomberg's weekly gold survey showed participant splits of 13 bullish, 8 bearish and 6 expecting little change.
Silver, Platinum and Palladium Futures
In other New York precious metals futures on Friday:
Silver prices for September delivery rallied 80.6 cents, or 3.0%, to $27.801 an ounce. Silver ranged from $26.990 to $27.895.

Platinum for October delivery settled to $1,414.40 an ounce, advancing $26.60 or 1.9%. Platinum traded between $1,384.10 and $1,423.90.

Palladium for September delivery added $10.35, or 1.8%, to $578.20 an ounce, ranging from $567.80 to $583.10.
For the year, platinum is 0.7% higher, silver has fallen 0.4% and palladium has declined 11.9%.
London Precious Metals
All but gold declined in London precious metals on Friday. When comparing the London PM Fix prices:
Gold climbed $5.00, or 0.3%, to $1,602.00 an ounce,
Silver fell 17.0 cents, or 0.6%, to $27.25 an ounce,
Platinum shed $1.00, or 0.1%, to $1,390.00 an ounce, and
Palladium lost $2.50, or 0.4%, to $573.00 an ounce
Each of the metals slid lower for the week. Losses were 1.0% for gold, 1.7% for silver, 1.4% for platinum and 0.2% for palladium.
Sales of U.S. Mint Bullion Coins
Last week demand surged for U.S. Mint bullion coins for the best showing in July. In comparison, this week sales were a bit higher for gold coins but lower for silver coins — although, notably, weekly numbers for the bureau's five ounce America the Beautiful Silver Coins were the highest of the year.
For the week, sales included:
11,500 ounces of gold bullion coins. That compares to the prior week's 9,500 ounces. Splits were 9,000 ounces of 22-karat American Gold Eagles and 2,500 ounces of 24-karat American Gold Buffalo coins.

581,500 ounces of silver bullion coins sold versus the previous week's 723,000 ounces. Weekly silver coin sales included 510,000 American Silver Eagles and 14,300 America the Beautiful 5 Ounce Silver Coins.
Below are the most recent daily, weekly, August and year-to-date sales totals for U.S. Mint bullion coins.
Sales of US Mint American Eagle and Buffalo Bullion Coins
Daily Gains
Prior Weekly
Weekly Gains
August Gains
YTD 2012
$50 American Gold Eagle Bullion Coins
0
6,500
7,500
2,500
316,000
$25 American Gold Eagle Bullion Coins
0
0
0
0
56,000
$10 American Gold Eagle Bullion Coins
0
0
0
0
54,000
$5 American Gold Eagle Bullion Coins
0
5,000
15,000
5,000
195,000
$50 American Buffalo Gold Coins
0
2,500
2,500
2,500
81,500
American Eagle Silver Coins
0
720,000
510,000
180,000
19,850,000
Sales of America the Beautiful 5 Oz. Silver Bullion Coins
Daily Gains
Prior Weekly
Weekly Gains
August Gains
All-Time Total
2012 El Yunque National Forest 5 oz. Silver Coins
0
200
1,700
100
13,300
2012 Chaco Culture National Historical Park 5 oz. Silver Coins
0
0
1,600
100
7,500
2012 Acadia National Park 5 oz. Silver Coins
0
0
10,200
300
10,200
2011 Olympic National Park 5 oz. Silver Coins
0
0
200
0
85,500
2011 Vicksburg National Military Park 5 oz. Silver Coins
0
200
300
0
39,100
2011 Chickasaw Park 5 oz. Silver Coins
0
200
300
0
29,400
TOTAL
0
600
14,300
500
185,000
All above U.S. Mint bullion sales are in coin totals, not the amount of ounces sold.
For a review of precious metal and bullion coin performances last month, read about July bullion coin sales and July gold and silver prices.