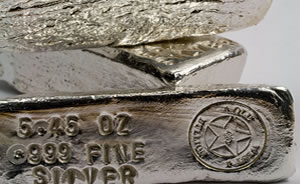 Most precious metals were little changed on the week. Gold stood alone with a weekly loss, down about 0.1%. Silver and platinum each climbed 0.5% from a week ago while palladium, the standout, surged 2%.
Gold for June delivery on Friday shed $3.30, or 0.3%, to settle at $1,291.70 an ounce on the Comex division of the New York Mercantile Exchange.
Narrow weekly changes in prices have "become the norm in gold as futures have failed to end a week higher than $1,320 or lower than $1,280 this quarter," MarketWatch quoted Tyler Richey, an analyst for the 7:00's Report, which offers daily markets commentary.

"Bottom line, the gold market is 'stuck' at the $1,300 level and until we see a material shift in market dynamics such as a correction in stocks, or some sort of surprise from the Fed, that is set to continue as gold is trading in a trendless range," he said.
Gold's only other down session this week happened on Wednesday when prices slipped $6.50. Daily gains included 40 cents on Monday, 80 cents on Tuesday and $6.90 on Thursday.
Gold Outlook and YTD Gains
Majority participants in the latest Kitco News survey are divided about the direction of gold for next week. Nine participants expect prices to trade higher, 7 see prices moving lower and 6 see prices trading sideways or are neutral. Kitco News reports:
"Those who see higher prices said they wouldn't want to be short gold going into the weekend… Those who see weaker gold prices said a slowly improving U.S. economy and a lack of physical demand will weigh on gold… Participants who are neutral on gold or see prices trading sideways said they wanted to wait to see what the outcome is for the Ukrainian elections."
Last week's survey by Kitco offered no majority consensus among participants while surveys from each of the two weeks before then had leaned bearish.
Gold prices this year have advanced $92.70, or 7.7%, since ending 2013 at $1,202.30 an ounce.
Silver, Platinum and Palladium Futures
Silver this week tracked gold's daily directional movements. On Friday, platinum snapped a two-session winning streak awhile palladium declined for the first time in six sessions. In their breakdowns:
Silver for July delivery lost a dime, or 0.5%, to $19.42 an ounce.

July platinum fell $20.30, or 1.4%, to $1,472.80 an ounce.

Palladium for June delivery dipped $5, or 0.6%, to $831.45 an ounce.
For the year-to-date, palladium has soared 15.8%, platinum has climbed 7.2% and silver has inched up 0.2%.
London Fix Precious Metals
London precious metal fixings declined on Friday yet most advanced on the week. When comparing London fix bullion prices from Thursday PM to Friday PM:
Gold slipped $7, or 0.5%, to $1,291.50 an ounce,
Silver lost 14 cents, or 0.7%, to $19.42 an ounce,
Platinum shed $9, or 0.6%, to $1,483 an ounce, and
Palladium fell $9, or 1.1%, to $828 an ounce
Gold ended unchanged from a week ago while other London precious metal fixings advanced — 0.5% for silver, 1.3% for platinum and 1.5% for palladium.
US Mint Bullion Sales
Sales of U.S. Mint bullion products picked up for gold coins but slowest significantly for silver coins. Notably, the bureau's Silver Eagles logged one of the weakest sales weeks this year. In the latest week-over-week comparisons across all U.S. Mint bullion products:
Gold coin sales jumped 15,000 ounces after gaining 9,000 ounces last week. Splits were 12,000 ounces in American Gold Eagles compared to 5,500 ounces previously and 3,000 ounces in American Gold Buffalos after 3,500 ounces previously.

American Silver Eagles rose just 300,000 compared to 918,000 last week. The silver coins did top the year-to-date mark of 21 million on Tuesday and sales remain on a record pace this year, though not by much with the smaller increase this week. Last year when the annual Silver Eagle sales record was hit at above 42.6 million, the coins had reached 20,910,000 by May 23, 2013.

Sales of America the Beautiful Five Ounce Silver Bullion Coins rose 700, or 3,500 ounces, after gaining 2,000, or 10,000 ounces last week.

In the 11th full week of release following a five-year hiatus, American Platinum Eagles added 300 after rising 100 previously.
Below is a sales breakdown of U.S. Mint bullion products with columns listing the number of bullion coins sold on Friday, last week, this week, last month, the month so far, and the year-to-date.
American Eagle and Buffalo Bullion Sales (# of coins)
Friday Sales
Sales Last Week
Weekly Sales
April Sales
May Sales
YTD Sales
$100 American Platinum Eagle Bullion Coins
0
100
300
1,200
1,000
12,200
$50 American Gold Eagle Bullion Coins
5,000
2,000
11,000
26,000
22,500
149,000
$25 American Gold Eagle Bullion Coins
0
3,000
0
5,000
3,000
25,000
$10 American Gold Eagle Bullion Coins
0
6,000
0
20,000
6,000
68,000
$5 American Gold Eagle Bullion Coins
0
5,000
10,000
55,000
30,000
320,000
$50 American Buffalo Gold Bullion Coins
500
3,500
3,000
17,500
9,000
92,000
$1 American Silver Eagle Bullion Coins
0
918,000
300,000
3,569,500
3,562,000
21,010,000
Great Smoky Mountains National Park 5 Oz Silver Bullion Coins
0
0
500
10,600
4,000
27,000
Shenandoah National Park 5 Oz Silver Bullion Coins
0
2,000
200
N/A
17,400
17,400