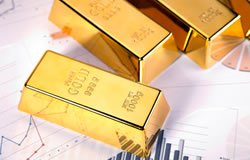 After a slow start, gold kicked into a higher gear this week with pick-ups starting Wednesday and extending through Friday as hopes widened for more monetary easing in the U.S. and Europe.
Gold advanced 2.2% this week. Silver tracked the yellow metal with a 0.7% weekly gain, but platinum declined 0.4% and palladium lost 0.7%.
On the Comex in New York Friday, gold prices for August delivery climbed $2.90, or 0.2%, to settle at $1,618.00 an ounce — the highest settlement price since July 3. Gold traded from an intraday low of $1,610.70 to a high of $1,628.60. The precious metal has gained 3.3% in 2012.
"It seems the ECB is pulling out at all stops to protect the euro," William O'Neill, a partner at Logic Advisors in Upper Saddle River, New Jersey, said in a telephone interview relayed on Bloomberg.

"The GDP numbers provided some support as expectations of some form of easing remain alive."
On Thursday, ECB President Mario Draghi said policy makers will do whatever was necessary to protect the euro. On Friday, GDP data showed that the U.S. economy grew at a sluggish 1.5% from April through June.
Gold Expected to Move Higher Next Week
As for gold prices in the coming days, weekly gold surveys are bullish.
"In the Kitco News Gold Survey, out of 33 participants, 25 responded this week. Of those 25 participants, 16 see prices up, while three see prices down, and six are neutral or see prices moving sideways," reports Kitco News.

"Several survey participants pointed to comments from the ECB as supportive to gold and enough to help gold sustain its rally into next week… Those who see weaker prices next week urged market participants to be wary of this week's rally…"
Bloomberg's weekly gold survey showed participant splits of 15 bullish, 9 bearish and 6 expecting little change.
Silver, Platinum and Palladium Futures
In other New York precious metals futures on Friday:
Silver prices for September delivery added 5.2 cents, or 0.2%, to $27.498 an ounce. Silver marked an intraday low of $27.310 and high of $27.850.

Platinum prices for October delivery settled at $1,408.20 an ounce, gaining $2.60 or 0.2%. Platinum traded between $1,403.50 and $1,420.60.

Palladium prices for September delivery advanced $1.95, or 0.3%, to $571.85 an ounce, ranging from $569.30 to $576.95.
For the year, platinum is 0.2% higher, silver has declined 1.5% and palladium has plunged 12.8%.
London Precious Metals
Precious metals in London moved marginally Friday. In comparing the London PM Fix prices:
Gold was nearly unchanged, up 25.0 cents to $1,618.25 an ounce,
Silver dipped 8.0 cents, or 0.3%, to $27.73 an ounce,
Platinum added $2.00, or 0.1%, to $1,410.00 an ounce, and
Palladium climbed $3.00, or 0.5%, to $574.00 an ounce
London metals were mixed on the week with palladium down 0.5% and the others logging gains of 2.7% for gold, 2.4% for silver and a modest 0.1% for palladium.
Sales of U.S. Mint Bullion Coins
U.S. Mint bullion sales this week rebounded from one of the worst weekly performances of the year. Compared to the previous one, sales more than doubled for silver bullion coins and they were 9.5 times better for gold bullion coins. For the week, sales included:
9,500 ounces of gold bullion coins versus the previous 1,000 ounces. Weekly gold coin sales included 7,000 ounces of 22-karat American Gold Eagles and 2,500 ounces of 24-karat American Gold Buffalo coins.

723,000 ounces of silver bullion coins as compared to the prior week's 325,000 ounces. The weekly amount was the best since the start of June. Weekly silver coin sales included 720,00 Silver Eagles and 600 America the Beautiful 5 Ounce Silver Coins.
Below are the most recent daily, weekly, July and year-to-date sales totals for U.S. Mint bullion coins.
Sales of US Mint American Eagle and Buffalo Bullion Coins
Daily Gains
Prior Weekly
Weekly Gains
July Gains
YTD 2012
$50 American Gold Eagle Bullion Coins
1,500
1,000
6,500
23,500
308,500
$25 American Gold Eagle Bullion Coins
0
0
0
0
56,000
$10 American Gold Eagle Bullion Coins
0
0
0
2,000
54,000
$5 American Gold Eagle Bullion Coins
5,000
0
5,000
5,000
180,000
$50 American Buffalo Gold Coins
1,500
0
2,500
4,000
79,000
American Eagle Silver Coins
180,000
322,000
720,000
1,948,000
19,340,000
In related American Eagle coin news, read about shipping Silver Eagle proof sets and the newest Silver Eagle launch date.
Sales of America the Beautiful 5 Oz. Silver Bullion Coins
Daily Gains
Prior Weekly
Weekly Gains
July Gains
All-Time Total
2012 El Yunque National Forest 5 oz. Silver Coins
0
100
200
1,700
11,600
2012 Chaco Culture National Historical Park 5 oz. Silver Coins
0
500
0
2,700
5,900
2011 Olympic National Park 5 oz. Silver Coins
0
0
0
100
85,300
2011 Vicksburg National Military Park 5 oz. Silver Coins
0
0
200
200
38,800
2011 Chickasaw Park 5 oz. Silver Coins
0
0
200
200
31,100
TOTAL
0
600
600
4,900
170,700
Sales of the above U.S. Mint bullion coins are in coin totals, not the amount of ounces sold.