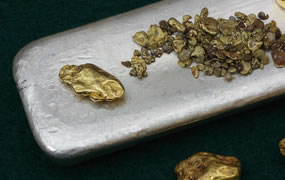 Gold returned to positive territory Friday, lifted by a weak U.S. jobs report, but gave back most of the day's gains and ended lower on the week.
Gold for December delivery edged up 80 cents to settle at $1,267.30 an ounce on the Comex division of the New York Mercantile Exchange.
"Previous data had suggested the economy was gaining traction, but today's (jobs) number is a bit of a disappointment, and the Fed may have to maintain lower interest rates," Chris Gaffney, the senior market strategist at EverBank Wealth Management in St. Louis, said in a telephone interview according to Bloomberg News. "This is a good number for gold."
Nonfarm payrolls increased 142,000 last month, from 212,000 in the preceding month, the U.S. Labor Department said on Friday. The level was the lowest of the year, and well below economists' expectations of around 225,000.
Despite a 1.6% weekly decline, gold has advanced 5.4% since ending 2013 at $1,202.30 an ounce.
Gold Outlook
Participants in the latest Kitco News survey are mixed for a second straight week about upcoming gold prices. Eight expect gold to rise next week, 9 see them lower, and 5 see them trading sideways or are neutral. Kitco News reports that:
"Some who see higher prices said they think the recent strength in the U.S. dollar is due for a retreat… Those who see weaker prices said even if the dollar retreats next week following recent gains, they expect the long-term trend of dollar strength to weigh on gold…"
Kitco gold survey results last week had splits of 9 up, 6 down, and 7 sideways or neutral.
Silver, Platinum and Palladium Futures
Silver for December delivery inched up 2 cents, or less than 0.1%, to close at $19.16 an ounce. Silver tumbled 1.7% on the week, driving prices 1.1% lower on the year to date.
In PGM futures on Friday and for the week:
October platinum tacked on $2.70, or 0.2%, to $1,411 an ounce, but fell 1% from a week ago.

Palladium for December delivery added 45 cents to $891.45 an ounce, losing 2% on the week.
Year-to-date, platinum has turned up 2.7% and palladium has surged 24.1%.
London Fix Precious Metals
London precious metals were mixed on Friday and lower on the week. When comparing London bullion Fix prices and the LBMA Silver Price from Thursday PM to Friday PM:
Gold lost $5.50, or 0.4%, to $1,266 an ounce,
Silver declined 8 cents, or 0.4%, to $19.13,
Platinum was unchanged at $1,406 an ounce, and
Palladium rose $2, or 0.2%, to $887 an ounce
Weekly losses stacked to 1.5% for gold, 1.7% for silver, 1.3% for platinum and 1.2% for palladium.
US Mint Bullion Sales in August
U.S. Mint bullion demand was mixed compared to a week ago with gold coin sales sharply higher and silver coin sales lower. In the latest week-over-week comparisons:
Gold coin sales rose 20,000 ounces after climbing 7,500 ounces last week. Splits were 17,000 ounces in American Gold Eagles compared to 6,000 ounces previously, and 3,000 ounces in American Gold Buffalos compared to 1,500 ounces previously.

American Silver Eagles advanced 340,000 after gaining 397,500 in the previous week.

America the Beautiful Five Ounce Silver Bullion Coins were flat after rising 9,200 in the prior week.

Sales of American Platinum Eagles advanced 100. They were flat in the previous week. The coins are now in their 23rd full week of release after a five-year hiatus.
Below is a sales breakdown of U.S. Mint bullion products with columns listing the number of bullion coins sold on Friday, last week, this week, last month, and the year to date.
American Eagle and Buffalo Bullion Sales (# of coins)
Friday Sales
Sales Last Week
Current Week / September
August Sales
YTD Sales
$100 American Platinum Eagle Bullion Coins
0
0
100
700
13,700
$50 American Eagle Bullion Gold Coins
5,000
5,000
13,500
21,000
259,000
$25 American Eagle Bullion Gold Coins
1,000
0
4,000
0
31,000
$10 American Eagle Bullion Gold Coins
2,000
4,000
2,000
6,000
86,000
$5 American Eagle Bullion Gold Coins
5,000
0
10,000
25,000
420,000
$50 American Buffalo Bullion Gold Coins
500
1,500
3,000
8,000
128,000
$1 American Eagle Silver Bullion Coins
100,000
397,500
340,000
2,007,500
28,451,000
Great Smoky Mountains National Park 5 Oz Silver Bullion Coins
0
0
0
0
29,500
Shenandoah National Park 5 Oz Silver Bullion Coins
0
500
0
500
20,500
Arches National Park 5 Oz Silver Bullion Coins
0
1,200
0
1,200
21,200
Great Sand Dunes 5 Oz Silver Bullion Coins
0
7,500
0
7,500
7,500