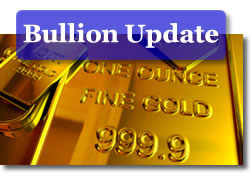 Gold advanced for a second straight day Friday but those gains stacked smaller against three days of prior losses and prices resultantly ended 1.4% lower this week.
Gold was pressured most of the week by the U.S. dollar which strengthened as concerns grew over Greece possibly leaving the European Union.
"Gold has been hurt by the strength in the U.S. dollar as investors turn their focus once again to Europe," Bloomberg quoted Feng Liang, an analyst at GF Futures Co., a unit of China's second-largest listed brokerage.
Gold prices for June delivery tacked on $11.40, or 0.7%, to close at $1,568.90 an ounce on the Comex in New York. The yellow metal traded between an intraday low of $1,550.70 and a high of $1,573.70.
Gold Prices Expected Higher Next Week
Two weekly precious metals surveys reflect an overall bullish attitude toward gold next week. Last week's Kitco survey had the majority of its participants forecasting higher prices, which obviously failed to materialize. This week's survey has most participants remaining bullish despite the miss.
"In the Kitco News Gold Survey, out of 33 participants, 23 responded this week. Of those 23 participants, 15 see prices up, while five see prices down, and three are neutral," reports Kitco.

"Last week was one of the heaviest bullish sentiments the survey has seen in recent months and despite price being down on the week, bulls are undeterred. Bulls aren't as certain as they were last week, but they hold a definite majority…

Those who see weaker prices said the continued uncertainty regarding the eurozone and the Greek elections in a few weeks leaves the financial industry as a whole on edge and that can bode poorly for gold, which is not acting as a safe haven."
Bloomberg survey results from last Friday had the majority correctly expecting lower prices. More respondents in the latest round expect gold to move higher in the coming days with 13 of 26 so indicating. 10 were bearish and 3 neutral.
With losses this week added in, gold is barely up on the year as it marks a modest gain of $2.10, or 0.1%.
Silver, Platinum and Palladium Futures Prices
Silver and platinum advanced Friday, but palladium dipped slightly. In their settlement prices:
Silver prices for July delivery gained 22.9 cents, or 0.8%, to $28.386 an ounce. The white metal ranged from a low of $27.875 to a high of $28.490.

Platinum prices for July delivery edged up $4.10, or 0.3%, to $1,426.50 an ounce, trading between $1,412.00 and $1,435.20.

Palladium prices for June delivery added $2.50, or 0.4%, to $590.00 an ounce, ranging from $584.70 to $595.00.
For the week, the three metals moved opposite of their direction on Friday with silver falling 1.1%, platinum shedding 2.2% and palladium dropping 2.3%.
For the year, silver prices have climbed 1.7% while platinum prices have gained 1.5%. Palladium is the sole precious metal lower in 2012 with its 10.1% loss.
London Precious Metal
London precious metals were mixed Friday and down this week. When comparing the most recent London PM fixings:
Gold was nearly unchanged, rising $1.00, or 0.1%, to $1,569.50 an ounce,
Silver tipped higher by 16.0 cents, or 0.6%, to $28.24 an ounce,
Platinum dipped $8.00, or 0.6%, to $1,423.00 an ounce, and
Palladium declined $10.00, or 1.7%, to $590.00 an ounce
For the week, London precious metals weekly losses were 1.3% for gold, 0.8% for silver, 2.3% for platinum and 2.5% for palladium.
U.S. Mint Bullion Sales – Silver Eagle Coins Pass 14 Million
For United States Mint American Silver Eagle coins, Friday's 75,000 increase was enough to lift their year-to-date sales total over the 14 million milestone. The Eagles have made a strong comeback in the last two weeks due to struggling silver prices.
Up through the 13th of May, they had a snoring tally of 510,000 and were on track to score the worst monthly total since February 2008. But in one week, sales flashed ahead to over 1.5 million. Sales surged 812,500 in this most recent week. And with those, American Silver Eagle coins are over 2.3 million for May. This month should end as the second best in 2012 unless buying plummets in the next few days.
Demand grew for U.S. Mint gold bullion coins, both Gold Eagles and the Gold Buffalo. Last week the bureau reported gold coin sales of 9,000 ounces — a solid weekly number. Sales went up another 14,500 ounces this week. With still several days left in the month, the Mint's gold bullion products are at 56,000 ounces. In contrast, just 29,000 ounces were sold in all of April.
The following are the available daily, May and year-to-date bullion coin sales totals as reported by the U.S. Mint.
U.S. Mint American Eagle and Buffalo Bullion Coin Sales
Daily Gains
Prior Weekly
Weekly Gain
May Gains
YTD 2012
American Eagle Gold Coins (1 oz.)
0
4,000
8,500
44,000
225,000
American Eagle Gold Coins (1/2 oz.)
0
0
3,000
3,000
54,000
American Eagle Gold Coins (1/4 oz.)
0
0
4,000
4,000
46,000
American Eagle Gold Coins (1/10 oz.)
0
5,000
10,000
15,000
150,000
American Gold Buffalo Coin (1 oz.)
0
4,500
2,500
8,000
63,500
American Silver Eagle Coins
75,000
1,030,000
812,500
2,352,500
14,011,500
America the Beautiful 5 Oz. Silver Bullion Coin Sales
Prior Weekly
Weekly Gains
All-Time Total
Olympic National Park 5 oz. Silver Coins
0
0
85,100
Vicksburg National Military Park 5 oz. Silver Coins
0
0
38,300
Chickasaw Park 5 oz. Silver Coins
0
0
28,900
TOTAL
0
0
152,300
All bullion coin sales in the above tables are in number of coins, not in the amount of ounces sold. The U.S. Mint last updated five ounce bullion silver coin sales on Monday, April 9, indicating none have sold since.