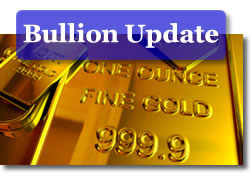 Gold rose Friday, capping its biggest weekly increase since late February. Other precious metals advanced on the day as well but were mixed for the week.
Gold prices for June delivery closed up $4.30, or, 0.3%, to $1,664.80 an ounce on the Comex in New York. It was gold's best settlement since April 12. Prices traded as high as $1,668.40. Ending week gains were greatly attributed to a weaker U.S. dollar brought on by disappointing economic data and a touch of safe-haven buying over euro zone debt woes.
The yellow metal rose 1.3% for the week but must gain $7.10 more on Monday to close even on the month. Whether April ends positive for gold is yet unknown, but many analysts are bullish for prices next week.
Gold Prices Expected Higher Next Week
Analysts and traders are showing a weightier bias toward higher gold prices. A majority of participants in the latest gold surveys are expecting continuing gains.
"In the Kitco News Gold Survey, out of 33 participants, 26 responded this week. Of those 26 participants, 21 see prices up, while three see prices down, and two are neutral," reports Kitco.

"Many of the survey participants who see higher prices for next week cite gold's rebound since Wednesday's Federal Open Market Committee meeting. Initially gold prices fell when the FOMC did not announce any new stimulus program, but prices rallied after traders realized the Fed is open to other measures down the road and that rates are already ultra-low…

Those who see weaker prices said the euro will likely weaken again versus the dollar, which will cap any rallies in gold."
Bloomberg's weekly survey was bullish as well. In it, 14 of 28 participants expect gold prices to climb next week. 5 are bearish and 9 are neutral.
After dipping a bit last week, gold rebounded to gain ground on the year as it is up $98.00, or 6.3%.
Silver, Platinum and Palladium Futures
In other major metals prices on Friday and for the week:
Silver prices for July delivery edged up 13.5 cents, or 0.4%, to settle at $31.411 an ounce. The white metal ranged from an intraday low of $30.945 to a high of $31.470. Silver lost 0.8% this week.

Platinum prices for July delivery added $5.50, or 0.4%, to close at $1,575.75 an ounce, trading between $1,562.70 and $1,579.60. Platinum dipped 0.5% since last Friday.

Palladium prices for June delivery advanced $8.85, or 1.3%, to end at $681.50 an ounce, trading between $667.35 and $683.75. Palladium gained 0.7% on the week.
Silver leads other precious metals this year with its 12.5% advance. Platinum follows at 12.2%. Palladium has risen 3.9% in 2012.
London Precious Metal
Precious metals in London were higher Friday but mixed for the week. When comparing the most recent London PM fixings:
Gold added $10.00, or 0.6%, to $1,663.50 an ounce,
Silver climbed 44.0 cents, or 1.4%, to $31.14 an ounce,
Platinum gained $18.00, or 1.2%, to $1,573.00 an ounce, while
Palladium advanced $18.00 also for a percent increase of 2.7% with a fixing of $677.00 an ounce
Weekly metal increases included 1.3% for gold and 1.7% for palladium. Weekly losses were at 2.0% for silver and 0.4% for platinum.
U.S. Mint Bullion Coins
Demand for U.S. Mint bullion coins improved this week but the monthly sales pace is significantly lower than March and from the same time a year ago.
American Silver Eagle coins are struggling with sales in April at 1.32 million. If no significant increases are garnered on Monday, the month will end as the weakest since July 2008. The 99.9% fine silver coins posted a total of 6.107 million as recently as January.
Sales of American Gold Eagle coins stand at 20,000 ounces. That is 1,000 ounces lower than February which was the slowest month for the series since December 2008.
The following are the available daily, weekly, April and year-to-date bullion coin sales totals as published by the U.S. Mint.
U.S. Mint American Eagle and Buffalo Bullion Coin Sales
Daily Gains
Prior Weekly
Weekly Gains
April Gains
YTD 2012
American Gold Eagle Coins (1 oz.)
3,000
4,000
4,000
19,000
181,000
American Gold Eagle Coins (1/2 oz.)
0
0
0
0
51,000
American Gold Eagle Coins (1/4 oz.)
0
0
2,000
2,000
42,000
American Gold Eagle Coins (1/10 oz.)
0
0
0
5,000
135,000
American Gold Buffalo Coin (1 oz.)
0
0
2,000
9,000
55,500
American Silver Eagle Coin
40,000
100,000
440,000
1,320,000
11,459,000
America the Beautiful 5 Oz. Silver Bullion Coin Sales
Prior Weekly
Weekly Gains
All-Time Total
Olympic National Park 5 oz. Silver Coins
0
0
85,100
Vicksburg National Military Park 5 oz. Silver Coins
0
0
38,300
Chickasaw Park 5 oz. Silver Coins
0
0
28,900
TOTAL
0
0
152,300
All bullion coin sales in the above tables are in number of coins, not in the amount of ounces sold. The U.S. Mint last updated five ounce bullion silver coins sold on Monday, April 9.