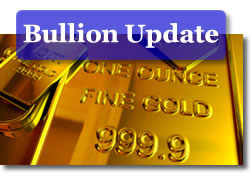 Gold snapped back above $1,700 an ounce Tuesday as a weaker U.S. dollar and bargain-hunting attracted investors following the previous day selloff which drove prices to a four-week low.
"Bargain-hunting buying has come back into the market, providing a nice rebound that bodes well for gold's near- and longer-term prospects," MarketWatch quoted Brien Lundin, editor of Gold Newsletter.
Gold prices settled to $1,702.40 an ounce in the December futures contract on the Comex in New York, advancing $23.80 or 1.4 percent. Gold traded from an intraday low of $1,667.50 to a high of $1,705.60.
"The uncertainty around the budget-deficit talks is positive for gold in the long run," Sterling Smith, an analyst at Country Hedging Inc. in St. Paul, Minnesota, said in a telephone interview that was cited on Bloomberg. "We have seen an increase in physical interest."
Silver prices for December delivery surged $1.835, or 5.9 percent, to $32.951 an ounce. Silver prices ranged from $32.130 to $32.951.
Platinum prices for January delivery closed to $1,571.00 an ounce, adding $27.20, or 1.8 percent. Platinum moved from $1,542.00 and $1,572.00.
Palladium prices for December delivery rose $15.35, or 2.6 percent, to $601.15 an ounce, trading between $584.95 and $603.60.
London Precious Metals
With the exception of silver, earlier London precious metals fixings declined for a third consecutive day. When comparing London fixings on Tuesday (PM) from those on Monday (PM), gold dropped $3.00 to $1,699.00 an ounce, silver prices advanced 95.0 cents to $31.85 an ounce, platinum fell $13.00 to $1,554.00 an ounce and palladium declined $4.00 to $588.00 an ounce.
U.S. Mint Bullion Coin Sales
Following two days of silence, one-ounce and below U.S. Mint bullion coins rose almost across the board. The only coin without a sales increase was the quarter-ounce American Gold Eagle.
The latest available daily, monthly, and year-to-date U.S. Mint bullion coin sales figures follow. All sales represent coin totals, not ounces of gold or silver coins sold.
Sales of U.S. Mint American Eagle and Buffalo Bullion Coins
Daily Gains
November Gains
YTD 2011
American Gold Eagle Coin (1 oz.)
4,000
20,000
826,000
American Gold Eagle Coin (1/2 oz.)
0
0
65,000
American Gold Eagle Coin (1/4 oz.)
2,000
4,000
82,000
American Gold Eagle Coin (1/10 oz.)
5,000
15,000
370,000
American Gold Buffalo Coin (1 oz.)
1,500
5,500
150,500
American Silver Eagle (1 oz.)
40,000
884,000
37,359,500
Sales of America the Beautiful 5 Oz. Silver Bullion Coins*
YTD 2011
Gettysburg National Military Park 5 oz. Silver Coin
126,700
Glacier National Park 5 oz. Silver Coin
126,700
Olympic National Park 5 oz. Silver Coin
83,300
Vicksburg National Military Park 5 oz. Silver Coin
32,200
Chickasaw Park 5 oz. Silver Coin
24,400
TOTAL
393,300
*The United State Mint does not provide daily sales figures for its 5-ounce silver coins. The sales are current as of Monday, November 14, 2011.