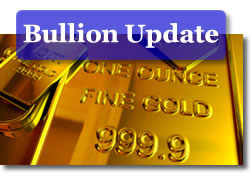 U.S. gold futures reclaimed $1,600 an ounce on Friday after falling from the level on Wednesday — the middle point of three straight daily losses. Gold ended 90 cents shy of its record close hit on Monday, yet still drove in with a weekly gain of 0.7 percent.
"There's a clamor for gold as the printing presses go off around the world," Adam Klopfenstein, a strategist at Lind- Waldock, a broker in Chicago, said in a telephone interview that was cited on Bloomberg. "The U.S. and Europe have structural problems, and there's a camp of investors that are willing to buy until these problems are fixed."
Other precious metals improved on the week as well. Palladium led with an advance of 3.3 percent, followed by a 2.7 percent pick-up in silver and a 2.4 percent increase in platinum.
In returning to the yellow metal, August gold prices rose $14.50, or 0.9 percent, to $1,601.50 an ounce on the Comex in New York. Gold traded between $1,583.20 and $1,607.70. Gold prices have surged 12.7 percent in 2011. Forecasts are mixed on gold's direction for next week, according to Kitco Metals Inc's weekly gold survey.
"In the Kitco News Gold Survey, out of 34 participants, 19 responded this week. Of those 19 participants, eight see prices up, while 11 see prices down and none see prices sideways or unchanged. Market participants include bullion dealers, investment banks, futures traders and technical chart analysts.

Many said gold's short-term direction will be determined by the news flow as the market seems to rise and fall based on the latest headline regarding the talks to raise the U.S. debt ceiling. As of Noon EDT Friday there was no decision to raise the ceiling. The U.S. Treasury Department says Aug. 2 is the deadline — after that it cannot pay all of its domestic obligations.

Survey participants believe the debt ceiling impasse will be resolved, but they are split on how they believe the gold market will react. Most believe gold will retreat if a deal is reached."
Silver prices soared on Friday after also falling for three straight sessions. The September futures contract settled up $1.175, or 3.0 percent, to $40.122 an ounce. Silver prices touched an intraday low was $38.865 and reached a high of $40.300. The metals has rallied 29.7 percent in 2011.
MarketWatch's Myra P. Saefong relays the following on Friday in an article entitled Silver's a worthy gold rival:
"If you believe that the worst thing we will have now is massive inflation from all of the monetary printing, silver will be a fantastic buy," said James Carrillo, account executive at precious metals investment firm Swiss America Trading Corporation. But "if you believe there will be another stock market meltdown, I would wait on silver."

Silver is firstly an industrial metal, and secondarily a monetary metal, he said. "If industry gets hammered again, then they will flock to liquidity and gold is the only place to be."
Platinum prices for October delivery advanced $10.60, or 0.6 percent, to close at $1,798.40 an ounce. They traded between $1,783.90 and $1,805.80.
Palladium prices for September delivery declined $2.60, or 0.3 percent, to settle at $806.40 an ounce. The metal ranged from $799.50 to $814.00.
Platinum and palladium weekly advances pushed their gains into the black for the year. They registered respective increases of 1.1 percent and 0.4 percent.
In London precious metals, all but silver headed higher. London Fix price comparisons between Friday (PM) and Thursday (PM) show that:
gold advanced $1.00 to $1,602.00 an ounce,
silver declined 11.0 cents at $39.67 an ounce,
platinum rose $13.00 to $1,773.00 an ounce, and
palladium advanced $8.00 at $807.00 an ounce.
All London precious metals registered weekly gains, including 0.9 percent for gold, 3.9 percent for silver, 1.9 percent for platinum and 3.9 percent for palladium.
Demand surged for United States Mint bullion coins. Weekly sales of gold and silver American Eagles and American Buffalo gold coins were among the best of the year. In fact, the only Mint bullion coin to remain flat for the week (and still for the month) was the one-quarter ounce Gold Eagle. The latest United States Mint bullion product sales figures follow:
US Mint American Eagle and Buffalo Bullion Coin Sales
Daily
Gains
Prior
Weekly
Weekly
Gains
July
2011
YTD
2011
Gold Eagle Coin (1 oz.)
3,500
10,500
15,500
37,000
544,500
Gold Eagle Coin (1/2 oz.)
0
0
2,000
3,000
58,000
Gold Eagle Coin (1/4 oz.)
0
0
0
0
64,000
Gold Eagle Coin (1/10 oz.)
10,000
0
10,000
15,000
265,000
Gold Buffalo Coin (1 oz.)
2,000
2,000
6,500
10,500
90,000
Silver Eagle (1 oz.)
347.5K
711K
856K
2.317M
24.6205M
America the Beautiful 5 Oz. Silver Bullion Coin Sales*
YTD
2011
Gettysburg National Military Park 5 oz.
126,700
Glacier National Park 5 oz.
126,700
Olympic National Park 5 oz.
80,700*
Vicksburg National Military Park 5 oz.
21,800*
*The United States Mint does not provide daily per coin sales totals for the Olympic and Vicksburg America the Beautiful Five Ounce Silver Bullion Coins as it does for its other investment-grade products. The individual numbers above are as of Monday, July 11. The United States Mint did, however, indicate on Monday, July 18, that the series of coins advanced 8,600 from the previous seven days and that their July sales total is at 11,400 coins. Their year-to-date level is at 364,500.