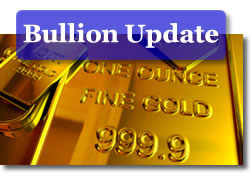 U.S. gold and silver prices rallied Tuesday as each surged 2.1 percent. Other precious metals advanced for the day as well, with palladium performing the best at 3.1 percent and platinum the least at 1.5 percent.
In a notable column, gold reclaimed an $1,800+ ounce settlement price for the first time since last Tuesday when the yellow metal began a two-day slide which slashed $136.60 in value to a closing of $1,757.30 an ounce on Wednesday.
"Given the ascendancy we've had, (price falls) shouldn't be a surprise and I suppose any dips, or sell-offs of that sort are manna from heaven for people who haven't yet bought into the story," Credit Agricole analyst Robin Bhar, was quoted on Reuters. "You'd have to say 'buy the dips' because with all the uncertainty all still very present and far from being resolved, despite better data, you still want gold as an insurance."
December gold prices rose $38.20 to close at $1,829.80 an ounce on the Comex in New York. Gold ranged from an intraday low of $1,786.20 to a high of $1,836.40.
"Monday's near-$50 losses turned into Tuesday's near-$40 gains as month-end book-squaring and fund rotation activities continued to churn gold. Thus, the one asset that is supposed to help one get a better night's sleep is having many actually pacing around wondering what this kind of volatility might ultimately result in," wrote Jon Nadler, Senior Analyst at Kitco Metals Inc.

"While the yellow metal is seen as currently trading inside of the broad $1700-$1900 price band, the darting back and forth between the $1780-1850 areas has been quite vigorous and indecision patterns have been dominating the action for several trading sessions now," Nadler added.
Silver prices for December delivery, the new most active contract, rallied 86.3 cents to settle at $41.464 an ounce. Silver prices traded between $40.455 and $41.730.
Platinum futures prices for October delivery advanced $28.10 to close at $1,853.10 an ounce. Prices ranged from $1,824.00 to $1,855.00.
Palladium futures prices for December delivery surged $23.55 to settle at $779.30 an ounce. Prices traded between $755.00 and $781.90.
London Precious Metals Prices
London Fix precious metals prices were mixed when comparing the London PM fixings from Tuesday over Friday — it was a summer banking holiday in London on Monday. Those comparisons have gold up $37.00 to $1,825.00 an ounce, silver prices down 16.0 cents to $40.90 an ounce, platinum $28.00 higher to $1,840.00 an ounce and palladium higher by $20.00 to $767.00 an ounce.
U.S. Mint Bullion Coin Sales
United States Mint bullion coin sales remained unchanged from Monday as of 3:51 p.m. ET. Three bullion coins did, however, advance late Monday afternoon. Added sales included 460,000 for the Silver Eagle, 3,500 for the one-ounce Gold Eagle and 2,000 for the Gold Buffalo. The bullion Silver Eagle gains lifted August sales to 3.3895 million, which is well over the 2.968 million sold last month.
August and year-to-date sales figures follow:
Sales of US Mint American Eagle and Buffalo Bullion Coins
Daily
Gains
August
Gains
YTD
2011
Gold Eagle Coin (1 oz.)
0
96,000
665,000
Gold Eagle Coin (1/2 oz.)
0
3,000
61,000
Gold Eagle Coin (1/4 oz.)
0
6,000
70,000
Gold Eagle Coin (1/10 oz.)
0
55,000
320,000
Gold Buffalo Coin (1 oz.)
0
26,500
118,000
Silver Eagles (1 oz.)
0
3.3895M
28.661M
Sales of America the Beautiful 5 Oz. Silver Bullion Coins*
YTD
2011
Gettysburg National Military Park 5 oz.
126,700
Glacier National Park 5 oz.
126,700
Olympic National Park 5 oz.
80,700
Vicksburg National Military Park 5 oz.
27,500
Chickasaw Park 5 oz.
15,200
TOTAL
380,400
*The Gettysburg and Glacier America the Beautiful Five Ounce Silver Bullion Coins are sold out. Unlike other investment-grade products, the United States Mint does not provide daily per coin sales totals for the Olympic, Vicksburg, and Chickasaw America the Beautiful Five Ounce Silver Bullion Coins. Their individual totals are as of August 2. The five ounce combined coin totals above (last line) are as of August 29.