U.S gold prices rose modestly Wednesday and silver returned to above $36 an ounce, but platinum and palladium prices dipped.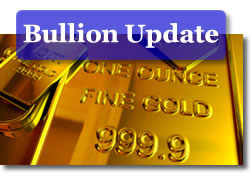 April gold prices rose $2.40, or 0.2 percent, to $1,429.60 an ounce on the Comex in New York. Gold traded as low as $1,423.20 an ounce and as high as $1,436.80 an ounce.
"We've hit a bit of a resistance level. The Egyptian crisis and then the Libyan crisis gave fuel to gold, to a bit of a safe haven. The market has reached a pretty good level," Rich Ilczyszyn, senior market strategist at Lind-Waldock, said and was quoted on MarketWatch. "Right now it seems we've hit a bit of a wall with a lot of these commodities."
Silver prices for May delivery advanced 38.9 cents, or 1.1 percent, to $36.047 an ounce. Silver reached an intraday low at $35.615 and a high at $36.440.
"The sentiment is just positive for gold and silver," Adam Klopfenstein, a senior market strategist at Lind-Waldock in Chicago, was cited on Bloomberg. "People want to have that fear premium. There's a flight-to-quality for gold and fear in the backdrop that higher oil prices are inflationary."
Platinum prices for April delivery lost 60 cents to $1,802.00 an ounce. It traded between $1,793.90 and $1,821.50.
Palladium prices for June delivery declined $5.05, or 0.6 percent, to end at $781.65 an ounce. Prices hit a low of $777.70 and a high of $802.50.
London PM precious metals prices were mixed as compared to prior PM fixings. Gold was $1,431.00 an ounce. That was $4.75 higher than the PM fix on Tuesday. The silver fixing was $36.17 an ounce for a loss of 20 cents. Platinum gained $3 at $1,811.00 an ounce. Palladium advanced $19 with its fixing of $800.00 an ounce.
American Silver Eagle bullion coin sales levels remained unchanged Wednesday after advancing nearly 670,000 on the previous day. In related news, the US Mint published the Silver Eagle proof release date. While the bullion Silver Eagle has been available since January 3, 2011, the numismatic proof Silver Eagle will not be issued until June 30, 2011.
The United States Mint did publish updates for its American Gold Eagle bullion coins. The one-ounce Gold Eagle rose 5,500. The quarter-ounce and one-tenth ounce sizes advanced 10,000 and 5,000, respectively. It was the first gains in March for the smaller sized bullion coins.
The latest United States Mint sales figures follow.
U.S. Mint 2011 Bullion Coin Sales
March
2011 Totals
American Eagle Gold Coin (1 oz)
13,500
216,500
American Eagle Gold Coin (1/2 oz)
4,000
17,000
American Eagle Gold Coin (1/4 oz)
10,000
28,000
American Eagle Gold Coin (1/10 oz)
5,000
125,000
American Eagle Silver (1 oz)
668,500
10,330,500