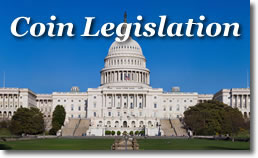 As Mother's Day 2011 approached, two familiar bills were revived and put before Congress to honor moms. For the last several years, lawmakers in the House of Representatives and the Senate have re-introduced bills that seek to commemorate the 100th anniversary of Mother's Day with up to 400,000 silver dollar coins.
The bills, given the title Mother's Day Centennial Commemorative Coin Act, would require the United States Mint to issue collector proof and uncirculated quality coins in 2014 that are "emblematic of the 100th anniversary of President Wilson's proclamation designating the second Sunday in May as Mother's Day."
Proceeds from the sale of the proposed commemorative coin legislation would go towards two charitable causes for the purpose of furthering research funded by the organizations. Half of the surcharges would be paid to the Susan G. Komen for the Cure (http://ww5.komen.org/), which has raised more than $1.9 billion for breast cancer research since 1982. The other half would go to the National Osteoporosis Foundation (http://www.nof.org/), the nation's leading voluntary health organization solely dedicated to osteoporosis and bone health.
This year the bill in the House of Representatives, introduced by Rep. David B. McKinley on May 5, 2011, is numbered H.R. 1736. Presently, it has been referred to the House Financial Services Committee. Previous bills with very similar language include H.R. 2421 and H.R.2268.
"Everyone can share a story of how their mother contributed to making them into the person they are today; the minting of this coin honoring our mothers is a small step in showing our gratitude," said McKinley in a statement on May 5.

"The modern day celebration of Mother's Day began right here with the efforts of a native West Virginian, Anna Jarvis, who wanted to show her love and dedication to her recently deceased mother. That beautiful show of appreciation is moving even today… I am so pleased to honor Mother's Day with a Mother's Day Centennial Commemorative Coin."
For the Senate, the commemorative coin bill is numbered S.889 and was introduced by Sen. Jay Rockefeller, also on May 5, 2011. Its status is in the Senate Banking, Housing, and Urban Affairs committee. Similar bills from the past that Rockefeller introduced were S.1012 and S.2883.
"Mothers play an extraordinary role in the lives of their children and in their communities every day, and on Sunday, we will take time to recognize everything they do all year long," Rockefeller said in a press release issued just before the weekend.

"During good times and in bad, mothers comfort, provide for, and teach. This legislation is a tribute to them — here in West Virginia and across the nation. One hundred years after the first recognition in West Virginia, I believe this is the right way to honor mothers — while also supporting life-saving women's health research."
For commemorative coin legislation to become law, it must pass both in the House and Senate, and get signed by the President.
Mother's Day Founding
It all started with Anna Jarvis soon after her mother died in 1905. She started to campaign for a national holiday, and by 1908 the Matthews Methodist Episcopal Church of Grafton officially celebrated Mother's Day. In 1910, West Virginia Governor, William Glasscock, issued the first Mother's Day Proclamation, encouraging all West Virginians to attend church and wear white carnations.
The day became a national holiday in 1914 when President Woodrow Wilson issued a Presidential Proclamation directing government officials to display the American flag on all government buildings and invited fellow Americans to display the flag at their homes on the second Sunday of May as a public expression of the love and reverence for the mothers of our Nation.