For the first time in three years, collectors may purchase an uncirculated American Gold Eagle from the United States Mint. The one ounce, 22-karat gold coin went on sale Thursday at 12:00 noon ET with an opening price of $1,778.00.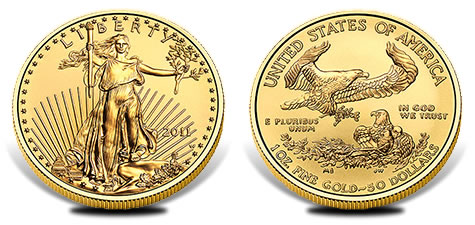 The United States Mint produces three types of American Gold Eagles — two collector versions that feature a unique proof and uncirculated finish with both bearing the West Point ("W") mint mark, and an investment-grade bullion coin that does not have a special finish or mint mark. In appearance, the uncirculated coin mostly resembles the bullion Gold Eagle.
The uncirculated Gold Eagle has been on hiatus for three years as the Mint reserved its 22-karat gold coin blanks for the bullion coin exclusively in 2009, and then allocated them for the bullion and proof issues in 2010. While the proof and bullion coins have been around since 1986, the uncirculated eagle was only introduced as a collectible offering in 2006.
Unlike the bullion and proofs, which were released earlier this year and are offered in one ounce, half ounce, quarter ounce and tenth ounce sizes, the uncirculated American Gold Eagle is available only in the one ounce or $50 denominated size. The United States Mint slashed its product portfolio in 2009, eliminating the fractional sizes.
The obverse of all the coins feature Augustus Saint-Gaudens' full-length figure of Liberty with flowing hair holding a torch in her right hand and an olive branch in her left. Miley Busiek's reverse design features a male eagle carrying an olive branch flying above a nest containing a female eagle and her eaglets.
The United States Mint has not announced mintage limits for the 2011 eagle, as it is expecting to produce the coin at the necessary level to meet demand. Past coin mintages have varied by size and year.
Uncirculated American Gold Eagle Mintages
| | | | | |
| --- | --- | --- | --- | --- |
| | 1 oz | 1/2 oz. | 1/4 oz. | 1/10 oz. |
| 2006-W | 45,053 | 15,164 | 15,188 | 20,643 |
| 2007-W | 18,606 | 11,455 | 12,766 | 22,501 |
| 2008-W | 11,908 | 15,682 | 8,883 | 12,657 |
Pricing and order details
As mentioned, the price of the uncirculated coin is $1,778.00. However, that price can change weekly in $50 increments — up or down — based on $50 moves in a weekly average of gold prices. The current price will last at least until Wednesday morning. It was established using a London Fix gold range of between $1,500.00 and $1,549.99 an ounce. Based on its price and melt value of $1,511 as determined by the London AM Thursday fixing, the premium for the Gold Eagle is currently $267.
Buyers can order the coin at http://www.usmint.gov/catalog or at 1-800-USA-MINT (872-6468). Hearing and speech-impaired customers with TTY equipment may order at 1-888-321-MINT (6468). A $4.95 shipping and handling charge will be added to all domestic orders. There are no per household order limits in place.
Similar to the proofs, each uncirculated coin is encapsulated in an attractive case and is accompanied by a Certificate of Authenticity.
The United States Mint indicated that it will begin shipping uncirculated American Gold Eagle orders within one to two weeks.