The 2011 Uncirculated Gold Eagle continues a United States Mint series that first debuted in 2006, but is based on the bullion American Gold Eagle program which launched in 1986. The one ounce Uncirculated Gold Eagles were released on May 5, 2011.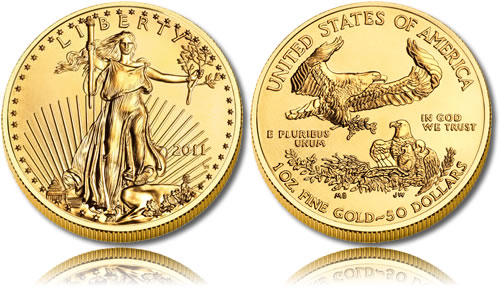 Despite their two year absence, collectors were not quickly drawn to the release of the ounce Eagles. In there first four days of availability, the US Mint only recorded a total of 1,098 sold despite the lack of an initial mintage cap or household order limits in place on the coins. The hefty initial price of $1,778 may be to blame for the lackluster sales.
While these coins contain the same design imagery as found on the bullion and related Proof Gold Eagles, they are easily distinguishable from those two series. The Mint describes those differences this way:

"Although they are similar in appearance to American Eagle Bullion Coins, these new uncirculated coins are distinguished by the presence of a mint mark, indicating their production facility, and by the use of burnished coin blanks, which are hand-fed into specially-adapted coining presses one at a time."
When launched in 2006, the US Mint also produced fractional 1/2 ounce, 1/4 ounce and 1/10 ounce Uncirculated Gold Eagles in addition to the one ounce size. The fractional coins were discontinued in 2008.
On the obverse of all of the Gold Eagles, including these uncirculated versions, Augustus Saint-Gauden's Liberty is shown. This same image of Liberty was first used on the 1907-1933 $20 gold piece. The reverse shows Miley Busiek's image of a male eagle soaring above a nest. In the nest, a female and her hatchlings are shown.
Since their introduction, these Uncirculated Gold Eagles have been struck at the US Mint's facility in West Point.
Uncirculated Gold Eagle Annual Mintages
The Uncirculated Eagles were struck in 2006, 2007 and 2008 and finally re-appeared in 2011. The US Mint ended up canceling production of the coins in 2009 and 2010 as it diverted available blanks to the production of the bullion Gold Eagles which it was required by law at the time to strike to meet demand.
The individual annual mintage are shown below:
| | |
| --- | --- |
| Date | 1 oz. Mintage |
| 2006 | 45,053 |
| 2007 | 18,066 |
| 2008 | 11,908 |
| 2009 | N/A |
| 2010 | N/A |