Collectors may order the newest annual gold numismatic release from the United States Mint. The 2012-W $50 Uncirculated American Gold Eagle Coin went on sale today, June 28, 2012, beginning at Noon (ET).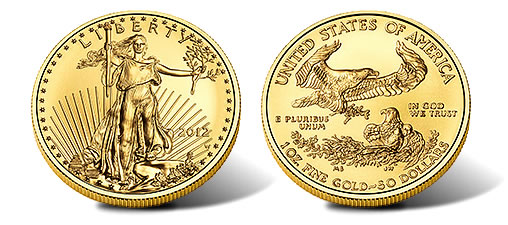 Pricing for the one ounce Gold Eagle is $1,828.00, but that is subject to change weekly based on the U.S. Mint's precious metal coin pricing policy. The U.S. Mint has opted not to place any household ordering limits or mintage caps on the 22-karat release.
The uncirculated coin is struck by the U.S. Mint as a collector version of the American Eagle Gold Bullion Coin for investors. Each is composed of one troy ounce of gold to which a small amount of silver and copper are added to aid in durability.
"Struck on specially burnished blanks, the coin bears a finish similar to its bullion counterpart but has a "W" mint mark, indicating its production at the United States Mint at West Point," states a description of the uncirculated Gold Eagle from the U.S. Mint.

"Each coin is encapsulated in plastic, mounted in a presentation case and accompanied by a Certificate of Authenticity."
Shown on the American Gold Eagle obverse is Augustus Saint Gaudens' full-length figure of Liberty. This design was first used by the U.S. Mint on the 1907 Double Eagle. The reverse depicts Miley Busiek's image of a male eagle carrying an olive branch, flying above a nest containing a female eagle and their eaglets.
Uncirculated American Gold Eagle coins made their U.S. Mint debut in 2006 as part of a 20th anniversary celebration of the American Eagle Program — which debuted itself in 1986 with the bullion and proof versions. In the first few years of issue, the U.S. Mint produced the one ounce coin as well as fractional uncirculated Gold Eagles. These fractional sized coins were discontinued after 2008 as the Mint culled under-performing products from its portfolio.
The following year, 2009, saw the one ounce coin cancelled as well as the U.S. Mint struggled to meet bullion American Eagle demand. All available blank planchets were diverted towards bullion coin production. The uncirculated Eagles remained unavailable in 2010 before reappearing in 2011. It sold out at a new mintage low.
Uncirculated American Gold Eagle Coin Mintages
$50 (1 oz.)
$25 (1/2 oz.)
$10 (1/4 oz.)
$5 (1/10 oz.)
2011-W
8,822*
N/A
2010-W
not released
2009-W
not released
2008-W
11,908
15,682
8,883
12,657
2007-W
18,606
11,455
12,766
22,501
2006-W
45,053
15,164
15,188
20,643
*The 2011 figure shown above is based on the most recent un-audited sales figures available from the U.S. Mint.
Orders for the 2012-W Uncirculated American Gold Eagle Coin may made via the United States Mint website at http://catalog.usmint.gov/ or its toll-free number 1-800-USA-MINT (872-6468).
The 2012-dated proof versions were released on April 19, 2012 while the newly dated bullion version launched on January 3, 2012.