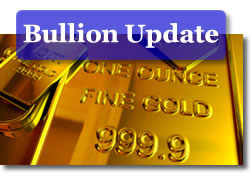 Gold futures rose modestly Monday, extending a streak of record session settlements to four. Silver prices plunged 5.2% and toward $46 an ounce, falling the most since January and after CME Group Inc. raised trading margin requirements for the metal twice in a week.
June gold prices edged up 70 cents to $1,557.10 an ounce on the Comex in New York. Gold ranged from a low of $1,540.30 to a high of $1,577.40.
"Silver just got out of control on the upside, and it was only a matter of time before it came down," Matt Zeman, a strategist at Kingsview Financial in Chicago, said and was quoted on Bloomberg. "The higher margins are going to squeeze out the little guys. We'll see the spread between silver and gold close and a little more buying in gold."
Silver prices for July delivery tumbled $2.515 to $46.084 an ounce. Silver traded between $42.200 to $48.190.
"What at first appeared as a misprint or computer malfunction in the market's price tickers turned out to be a very real and clearly frightening (especially to latecomers to the silver-plated punchbowl), 12% meltdown in the price of silver last night," noted Jon Nadler, Senior Analyst at Kitco Metals Inc.

Nadler added that "last night's 'flash-crash' — style routing of the bulls came on the heels of a doubling in silver prices in the past six months. Current downside targets on offer from various technically-oriented observers range from around $30 to perhaps $35 per ounce. The CME has, unsurprisingly, raised the price of "admission" to the silver market speculation spectacle for various players, yet again.
Platinum prices for July delivery added $10.20, or 0.5 percent, to close at $1,875.70 an ounce. Platinum hit a low of $1,833.80 and a high of $1,889.50.
Palladium prices for June delivery lost $8.05, or 1.0 percent, to $784.10 an ounce. They ranged between $764.50 and $800.00.
There was no London precious metals fixes on Monday as the UK markets were again closed.
All US Mint bullion coins advanced Monday with the exception of the one-tenth ounce American Gold Eagle. The first two 2011 America the Beautiful Silver Bullion Coins have nearly sold out. 15,200 of the coins remain available for Mint authorized dealers, according to the latest Mint sales figures.
US Mint 2011 Bullion Coin Sales
May
YTD 2011
American Eagle Gold Coin (1 oz)
11,000
369,000
American Eagle Gold Coin (1/2 oz)
6,000
39,000
American Eagle Gold Coin (1/4 oz)
2,000
54,000
American Eagle Gold Coin (1/10 oz)
0
200,000
American Buffalo Gold Coin (1 oz)
2,000
60,500
American Eagle Silver (1 oz)
654,000
15,902,000
2011 ATB Silver Bullion Coins (5 oz)
12,400
237,800