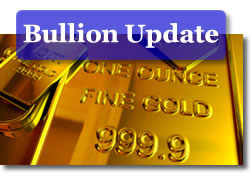 Precious metals rose modestly Tuesday, with the exception of palladium which shot up 2.1 percent. Gold prices returned to above $1,400 an ounce as U.S. data showed retail sales and wholesale inflation were better-than-expected in November.
A weaker U.S. dollar also lifted the yellow metal, although the greenback rallied after the Fed released its monthly statement on monetary policy — essentially unchanged from the prior month.
"We expect European debt concerns, continuing implications of quantitative easing and an ongoing safety drive to fuel investor demand," Julien Garran, an analyst at UBS AG, said in a report yesterday that was cited on Bloomberg. "Absolute faith in fiat currencies remains shaky. Gold is currently behaving as a currency rather than a commodity."
New York precious metals closing prices follow:
Gold prices for February delivery ended up $6.30, or 0.5 percent, to $1,404.30 an ounce on the Comex in New York. Prices ranged from a low of $1,393.80 to a high of $1,405.60.
March silver prices rose 16.4 cents, or 0.6 percent, to $29.788 an ounce. They ranged from $29.220 to $29.985.
Platinum prices for January delivery climbed $16.60, or 1.0 percent, to $1,713.90 an ounce. Platinum ranged between $1,694.40 and $1,717.10.
Palladium prices for March delivery advanced $15.75 to finish at $768.20 an ounce. It ranged from $751.70 to $768.50.
In PM London gold prices, the benchmark gold Fix was $1,394.50 an ounce for a loss of $4.50 from Monday's PM fixing. Silver was up 55 cents to $29.880. The platinum fixing was $1,701.00 an ounce for a gain of $2.00. Palladium was $758.00 for a loss of $3.00.
United States Mint America Eagle Gold bullion coins put forth strong sales numbers for a second straight day. The one-ounce 22 karat Gold Eagles advanced 13,000 on Tuesday, which was just 500 short of the tally from the previous day. Other bullion coins remained unchanged.
U.S. Mint 2010 Bullion Coin Sales
December*
2010 Totals
American Eagle Gold Coin (1 oz)
35,000
1,119,500
American Eagle Gold Coin (1/2 oz)
0
45,000
American Eagle Gold Coin (1/4 oz)
0
60,000
American Eagle Gold Coin (1/10 oz)
5,000
390,000
American Buffalo Coin (1 oz)
Sold Out
209,000
American Eagle Silver (1 oz)
1,422,000
34,312,500
December sales have an "as of date" of December 14.