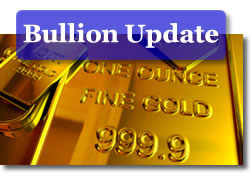 U.S. gold prices moved lower Friday, pressured by a stronger U.S. dollar and weaker crude-oil prices. A 0.9 percent loss on the day pushed the yellow metal down by the same amount for the week, its first weekly loss in four.
While other precious metals ended lower Friday as well, they maintained gains on the week with silver up 0.4 percent, platinum up 0.5 percent and palladium up 4.1 percent.
August gold prices declined $13.50 to settle at $1,529.20 an ounce on the Comex in New York. Gold traded between $1,526.70 and $1,546.50. Gold prices have advanced 7.6 percent this year.
"With the dollar strengthening, it's putting weakness on gold," Frank McGhee, head precious metals trader at Integrated Brokerage Services, was quoted on Reuters. "In the shorter term, the weaker economic numbers set up liquidation of assets, even as it is bullish longer-term because the government is expected to do more stimulus," he said.
"Gold prices could rally next week if Friday's gains in the U.S. dollar fizzle out, market participants said according to Debbie Carlson of Kitco Metals Inc. "Also, if fears regarding the European-debt situation build, that will increase gold's safe-haven allure, which might offset dollar strength if the greenback manages to hold firm," added Carlson.
Silver prices for July delivery declined $1.097, or 2.9 percent, to close at $36.327 an ounce. They traded from a low of $36.305 to a high of $37.860. Silver prices have advanced 17.4 percent in 2011.
"Silver, meanwhile, is likely to stay range-bound as it does not have the safe-haven allure gold does, plus it could find additional weight from a slowing global economy which would limit the industrial use of the metal," said Carlson.
Platinum prices for July delivery declined $11.70, or 0.6 percent, to $1,833.00 an ounce. Prices ranged between $1,821.50 and $1,849.40. Platinum has risen 3.1 percent this year.
Palladium prices for September delivery declined 80.0 cents, or 0.1 percent, to $817.30 an ounce. Palladium prices hit an intraday low of $806.00 and a high of $819.50. The metal has gained 1.7 percent in 2011.
London precious metals were mixed on the day and on the week. When comparing London fix prices on Friday (PM) from those on Thursday (PM), gold declined $8.50 to $1,529.25 an ounce and platinum lost $2.00 at $1,829.00 an ounce. Silver was the single precious metal to gain on the day, rising 35.0 cents at $37.380 an ounce. Palladium remained unchanged at $810.00 an ounce.
For the week, gold was the only metal to decline. It lost 0.7 percent. Weekly gains from highest to lowest for the other precious metals were 6.2 percent for silver, 5.2 percent for palladium and 1.2 percent for platinum.
For a second straight day, United States Mint buyers ordered American Silver Eagles but stayed away from the Mint's other bullion coins. The Silver Eagle coins enjoyed their best week in months, jumping 888,000 to land 163,500 short of 20 million for the year. The only other bullion coin to show a pick-up this week was the one-ounce American Gold Eagle. It rose 6,500 versus a stronger 19,000 advance from the previous week. For a recap on how both coins performed during the month of May, check out the following two articles:
The following are the latest United States Mint bullion coin totals for June and 2011.
US Mint 2011 Bullion Coin Sales
Daily
Gains
Prior
Weekly
Weekly
Gains
June
2011
YTD
2011
Gold Eagle Coin (1 oz.)
0
19,000
6,500
24,500
476,000
Gold Eagle Coin (1/2 oz.)
0
0
0
0
55,000
Gold Eagle Coin (1/4 oz.)
0
0
0
0
56,000
Gold Eagle Coin (1/10 oz.)
0
15,000
0
15,000
230,000
Gold Buffalo Coin (1 oz.)
0
0
0
0
74,000
Silver Eagle (1 oz.)
93,000
701,500
888,000
935,000
19.8365 M
ATB Silver Bullion (5 oz.)*
0
0
0
0
326,800
*ATB Silver bullion coin sales figures are not published by the Mint daily. The current figure has an "as of date" of more than two weeks ago (Thursday, May 26).