The United States Mint on Tuesday, Feb. 8, pulled the proof version of Buchanan's Liberty First Spouse Gold Coin from its online store and moved it to the 'No Longer Available' area of its website.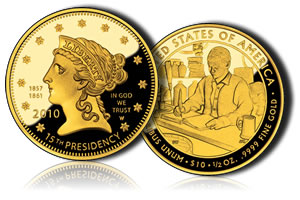 The US Mint has a published maximum mintage of 15,000 across the proof and uncirculated 24-karat gold coins. The latest available First Spouse coin sales as of Sunday, Feb. 6, show 7,317 of the proof and 4,461 of the uncirculated were sold for a combined tally of 11,778.
Those numbers indicate that either a large purchase order went through or that the Mint's proof inventory ran out and it will not produce new ones, leaving the uncirculated coin remaining as the only option. Traditionally, collectors have had the opportunity to buy both coins honoring a specific spouse for about a year. Their sales normally end around the 12-month period and in conjunction with a new First Spouse Gold Coin release. Only the first three debuting coins in the series — Martha Washington, Abigail Adams, and Thomas Jefferson's Liberty — had their entire authorized mintages sell out.
Demand has been stronger for Buchanan's Liberty First Spouse Gold Coins as compared to other recent issues. Higher sales have not been recorded since releases in 2008. The attractive Liberty design is one reason. Another is the uniqueness of the release. Along with Buchanan, only three other Presidents did not have spouses while they served in America's highest office. As such, only four coins in the entire series feature a Liberty design that was depicted on a circulating coin during the President's time in office. The other three include Jackson's Liberty, Van Buren's Liberty and Jefferson's Liberty.
The obverse or heads side of the Buchanan's Liberty First Spouse Gold Coin features a reproduction of the Liberty Head Quarter Eagle designed by Christian Gobrecht. That coin was issued from 1840 to 1907 — Buchanan served 1857-1861.
The reverse or tails side design, by David Westwood, features Buchanan as a young man working as a bookkeeper in his family's small country store.
The .9999 fine gold coins were issued on Sept. 2, 2010, for $779 for the proof and $766 for the uncirculated. Rising gold prices did result in price increases. The proof version was priced at $829. The uncirculated option is now listed for $816. There is a solid chance given the current trend of gold that its price, along with all the other First Spouse Gold Coins still for sale, will go up by $25 on Wednesday.
The US Mint 2011 product schedule currently has three of the four 2011-dated First Spouse Gold Coins scheduled with exact release dates.