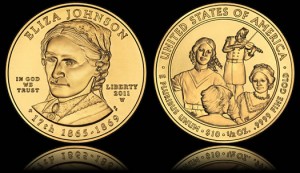 Featuring a portrait of Eliza Johnson, the 24-karat gold uncirculated coin honoring the First Lady was taken off sale today, June 5, 2012, by the United States Mint.
Last offered at a price of $941.00, the uncirculated coin is now listed in the "No Longer Available" section of the U.S. Mint's website with the words "Sold Out" annotated beside it.
That term is used somewhat loosely by the U.S. Mint, as it also appears beside coins that have been replaced by newer versions or when a coin's inventory has been depleted. In this case, since none of the 2012-dated First Spouse Gold Coins have been released, the latter seems to be the likely case.
Eliza Johnson First Spouse Gold Coins were released 13 months ago, on May 5, 2011, in both proof and uncirculated qualities. The proof version remains available for a price $954.00.
Latest US Mint Sales Figures
At the time of release, the U.S. Mint had indicated a maximum mintage of 15,000 across both coins. Sales as of Monday, June 4, are well short of that amount. The proof stands at 3,876 and the uncirculated coin at 2,914 for a total of 6,790. That is 45.2% of the initially stated mintage. Eliza's uncirculated coin has the lowest total to date, according to sales figures across all the coins that are no longer available.
Demand has continued to decline for First Spouse Gold Coins as gold has jumped sharply since the series debuted alongside the Presidential $1 Coins in 2007. Gold that year averaged $695.39 an ounce as compared to the average so far for this year of $1,660.71 an ounce. To state it simply, collectors back then could buy both the proof and uncirculated coin honoring a First Lady for less than what it costs for one coin today.
Coin Design, Past Sell Out, Forthcoming Issues
Each of the First Spouse coins has a denomination of $10 and is minted from one-half ounce of 99.99% pure gold. Eliza Johnson's coin features her portrait on the obverse and a reverse depicting three children dancing with a Marine Band fiddler playing at the children's ball that was held for President Johnson's 60th birthday.
Eliza's coin is the second of the 2011-dated issues to be taken off sale. The proof version of Julia Grant's coin occurred first in late March.
The U.S. Mint has not provided release dates for the 2012 First Spouse Gold Coins.