The United States Mint today at noon ET placed Buchanan's Liberty First Spouse Gold Coins on sale.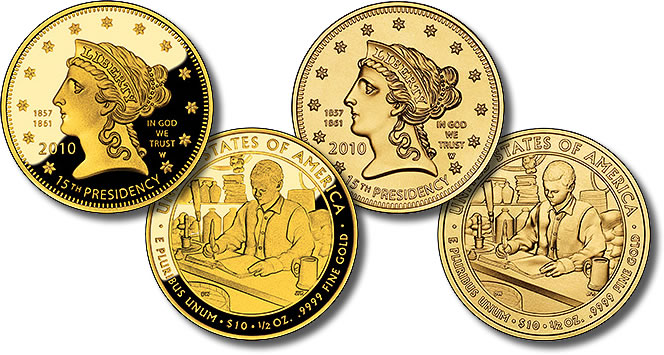 The coin prices can go up or down weekly depending on the prevailing cost of gold, but the proof version opened with a price of $779 and the uncirculated option was listed for $766.
James Buchanan was the only American President never to marry. However, the law authorizing the gold series still mandates the production of First Spouse Gold Coins as companions to the Buchanan Presidential Dollars.
This year, the Abigail Fillmore First Spouse Gold Coins were the first to become available on March 18, 2010. Jane Pierce First Spouse Coins followed on June 3, 2010. The final 2010 Mary Todd Lincoln First Spouse Gold Coins are scheduled to launch on December 2, 2010. The U.S. Mint has already published the 2011 coin designs.
Gold Coin Specifications and Mintages
The First Spouse series began in 2007. Each coin is struck from one-half ounce of .9999 fine gold which is 24 karat. The coins have a denomination of $10, a diameter of 1.043 inches and reeded edges. As they are produced at the U.S. Mint facility in West Point, each gold piece bears the "W" mint mark. Maximum mintages have varied, with the first few years topping at 40,000 and the latest offerings at 15,000.
Buchanan was the 15th President, but Buchanan's Liberty First Spouse Gold Coins are the sixteenth in the series. President John Tyler, the 10th President, married twice. His first wife Letitia died early into his term and he later married Julia while still serving, which resulted in the creation of two first lady Tyler coins in 2009.
First Spouse Coin Design
Since Buchanan was a bachelor his entire life, law states the design of the first lady coin must be emblematic of Liberty as featured on a coin during his Presidency. As such, the obverse or heads side of the First Spouse Gold Coin features a reproduction of the Liberty Head Quarter Eagle designed by Christian Gobrecht minted and issued from 1840 to 1907 — Buchanan served 1857-1861.
The reverse or tails side, designed by David Westwood and sculpted by Joseph Menna, portrays Buchanan as a young man working as a bookkeeper in his family's small country store. Inscriptions include UNITED STATES OF AMERICA, E PLURIBUS UNUM, $10 and 1/2 OZ. .9999 FINE GOLD.
Order Details
Customers may order any of the available First Spouse Coins at:
United States Mint First Spouse Products
Or by calling the toll-free number, 1-800-USA-MINT (872-6468). There are no household order limits in place.
A 1 5/16 inch Buchanan's Liberty First Spouse Bronze Medal is also available for $5.50.
Immediatly prior to the release of Buchanan's Liberty, the Mint stopped offering the older 2009 Sarah Polk First Spouse Coins.