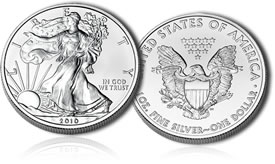 2010 American Silver Eagle bullion coins surged during the start and toward the end of March, capping the best United States Mint quarterly sales since the coin series debuted in 1986.
The latest sales figures, however, do not bode well for 2010-dated collector proof and uncirculated versions of the Silver Eagles. Collector coins carry the "W" mint mark, which is unlike the bullion versions that are available now and must be produced by the U.S. Mint in quantities to meet public demand. As long as that demand remains at unprecedented levels, this year's collector options are at risk of cancellation as happened to the 2009s.
"Any time that we get ahead of demand, we are storing away blanks" for collector gold and silver coins. "If demand catches up, that's when we have to use the blanks" for bullion coins, U.S. Mint Director Ed Moy explained during a public coin forum on Saturday, March 27.
Demand has softened recently for bullion Gold Eagles, and that is improving the odds for 2010-dated proof and uncirculated strikes. But the picture remains bleak for collector Silver Eagles.
"I will tell you that in the last five weeks or so, we caught up to gold demand," said Moy. "And so with that, we've been storing gold coins. We're still waiting to see if there's going to be another spike in the near future. Silver unfortunately is still red hot."
The one-ounce, .999 pure bullion Silver Eagles started this year registering a best ever January after authorized buyers ordered 3,592,500. Sales dipped by comparison in February, coming in at 2,050,000. But that was high enough to record a second best ever February — right behind February 2009. March came through at 3,381,000, marking the best ever March.
Combined, the months tally to a record-breaking quarter of 9,023,500 American Silver Eagles sold, topping the prior U.S. Mint fourth quarter sales record of 8,299,000 in 2009 and smashing all first quarterly sales in previous years.
U.S. Mint American Silver Eagle Sales: First Quarter 2010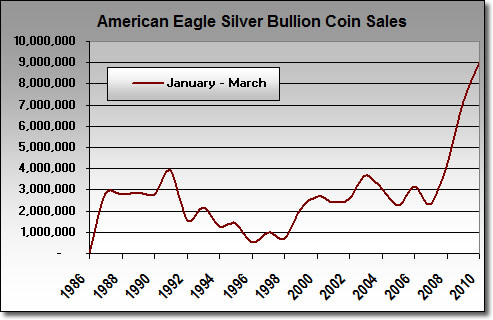 Demand for bullion coins has been driven in large part by silver prices. The Silver London Fix jumped 8.6 percent in March, bringing the first quarter gain to 3.0 percent. Silver this year has been as low as $15.14 an ounce and as high as $18.66 an ounce, as the following Kitco graph highlights:
London Fix Silver Prices: January 1, 2010 to March 31, 2010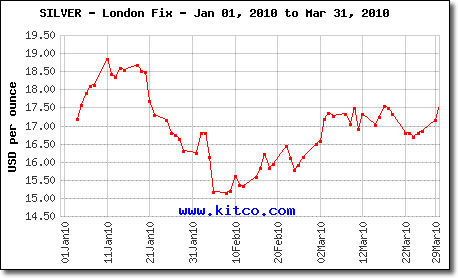 The Mint does not offer bullion eagles directly to the public, but instead to a small group of authorized purchasers who in turn resell the coins for a small amount over the current spot price to investors, dealers and collectors.
The Mint's priority for manufacturing American coinage is "circulating coins first, bullion coins second and numismatic coins third," Moy stated.
United States Mint bullion coins were authorized by Congress to "provide investors with a convenient and cost effective way to add a small amount of physical platinum, gold, or silver to their investment portfolios." The numismatic proof and uncirculated coins are struck specifically for collectors.