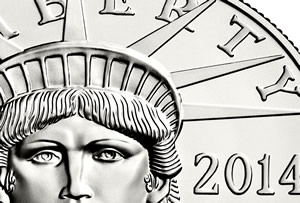 Sales of American Gold Eagles weakened yet again in March but American Silver Eagles rallied atop the 5.3 million mark to score the fourth highest sales month in history, and the strongest month since January 2013's all-time monthly record of 7,498,000.
March also saw the introduction of two new bullion coins, the first of the 2014 America the Beautiful Five Ounce Silver Coins and the American Platinum Eagle which was last available in 2008.
A sales summary across U.S. Mint bullion products for March and the quarter follows.
American Eagle Silver Bullion Coins
March sales of American Eagle silver coins hit 5,354,000, soaring 30% above February's total of 3,750,000 and jumping 59.5% higher than the 3,356,500 sold during the same month last year.
Monthly figures cannot paint a complete picture of demand for the 99.9% pure silver coins because the U.S. Mint continues to limit how many are sold. Still, just three other months in the coin's 29-year history notched higher sales. They include:
January 2013 with 7,498,000
January 2011 with 6,422,000
January 2012 with 6,107,000
First quarter and year-to-date Silver Eagle sales are 13,879,000. The only better starting year was in 2013 when sales through the first three months reached 14,223,000.
American Eagle Gold Bullion Coins
U.S. Mint sales of American Eagle gold coins climbed 21,000 ounces for a 32.3% decline from the prior month's 31,000 ounces and a fall of 66.1% from sales of 62,000 ounces during March of last year.
22-karat Gold Eagles are produced in four sizes — 1 ounce, 1/2 ounce, 1/4 ounce and 1/10 ounce that correspond to denominations on the coins of $50, $25, $10 and $5. All advanced in March. Breakouts by size are offered further below.
Gold Eagle sales in the January to March period total 143,500 ounces, the weakest three-month start since 2008.
American Eagle Platinum Bullion Coins
March sales of 99.95% pure American Platinum Eagle coins ended at 10,000 ounces after having launched on March 10. No recent comparisons are available since bullion Platinum Eagles were not been sold in years 2009-2013. In 2008, annual sales hit 33,700 ounces.
American Buffalo Gold Bullion Coins
24-karat American Buffalo gold coins advanced 12,000 in March, matching sales from February and topping those from the same time last year by 1,000.
A total of 65,500 sold through the first quarter, which is down sharply from last year's opening three-month tally of 95,000 ounces.
America the Beautiful Five Ounce Silver Bullion Coins
Finally, sales of three-inch, five ounce America the Beautiful Silver Bullion Coins advanced for the first time this year with the March 17 release of coin honoring Great Smoky Mountains National Park. Buyers picked up 12,400 of them last month with 10,500 of that on opening day.
The second 2014-dated release for Shenandoah National Park is set to go on sale in early April.
US Mint Bullion Sales by Product
Below are March sales of U.S. Mint bullion coins by product type. For comparative purposes, included are sales totals from prior 2014 months and from a year ago.
United States Mint Bullion Coin Sales (# of coins)
March 2013
January 2014
February 2014
March 2014
YTD Sales
$100 American Eagle Platinum Coins (1 oz)
N/A
N/A
N/A
10,000
10,000
$50 American Eagle Gold Coins (1 oz)
54,000
62,500
22,000
16,000
100,500
$25 American Eagle Gold Coins (1/2 oz)
4,000
12,000
3,000
2,000
17,000
$10 American Eagle Gold Coins (1/4 oz)
10,000
28,000
10,000
4,000
42,000
$5 American Eagle Gold Coins (1/10 oz)
35,000
160,000
50,000
30,000
240,000
$50 American Buffalo Gold Coins (1 oz)
11,000
41,500
12,000
12,000
65,500
ATB Silver Coins (5 oz)
19,800
0
0
12,400
12,400
American Silver Eagle Coins (1 oz)
3,356,500
4,755,000
3,750,000
5,354,000
13,879,000
United States Mint bullion coins are sold in bulk to authorized distributors who resell them in smaller quantities to the public and other companies like bullion and coin dealers. Bullion coins are usually available for a few percentage points above the latest value of their precious metal content. The smaller coins generally carry the higher premiums.