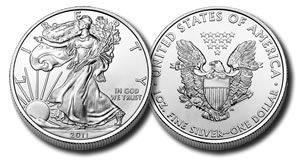 Another month in 2011 wrapped up, and another sales record was set. Last month ended up earning the "Best Ever September" and the second best month in the history for the American Eagle Silver bullion coin.
September started off very slow compared to the prior month, only 175,000 had been purchased in the first eight days and still less than 1 million by mid-month. Once the price of silver tumbled, however, from around $40 to $30 an ounce, sales of the American Eagle Silver bullion coin began to soar. Buyers picked up 3,534,500 in the last half of the month, which moved September sales to 4,460,500.
Record September, and 2nd Highest in Monthly Sales
September sales exceeded last month's, which came in at 3,679,500 and was bumped down to fifth place among the all-time highest months, and it easily topped sales from the same time last year, which was 1,880,000.
In fact, September was the second best level of the year, behind record January. On the final day of the month, Silver Eagle sales clocked in higher than a previous record set in November 2010, as shown in the table below of the all-time monthly sales.
Top Ten American Eagle Silver Bullion Coin Monthly Sales
| | | |
| --- | --- | --- |
| RANK | MONTH | SALES |
| 1 | January 2011 | 6,422,000 |
| 2 | September 2011 | 4,460,500 |
| 3 | November 2010 | 4,260,000 |
| 4 | December 1986 | 3,696,000 |
| 5 | August 2011 | 3,679,500 |
| 6 | May 2011 | 3,653,500 |
| 7 | May 2010 | 3,636,500 |
| 8 | January 2010 | 3,592,500 |
| 9 | June 2011 | 3,402,000 |
| 10 | March 2010 | 3,381,000 |
Year-to-date sales by the end of the month stood at 33,411,500, or 1.251 million shy of surpassing the best year for the coins, achieved in 2010 with the annual record of 34,662,500. The top annual spot will be overtaken sometime in October — likely this week, based on current demand trends.
Every American Eagle Silver coin is struck from .999 fine silver and shares the same obverse (heads) and reverse (tails) designs. Three versions are currently available. One is for investors, the bullion coins, and the other two are for collectors. Key differences include the finish and the mint mark. Bullion coins lack a special finish and a mint mark. The numismatic versions have either a proof or uncirculated finish and bear a West Point "W" mint mark.
The coins are also sold differently. The proof and uncirculated collector coins are sold directly by the United States Mint to the public through its website and customer service call centers. Bullion coins, on the other hand, are sold by the Mint to a small group of companies who are known as "Authorized Purchasers" or AP's. The AP's then resell the coins to secondary market dealers or to the public for a bit over silver's latest spot price.