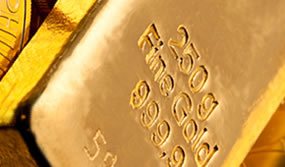 Gold futures advanced on the last trading day of March, easing their loss for the month while padding their quarterly gain.
Gold for June delivery tacked on $3.20, or 0.3% to settle at $1,251.20 an ounce on the Comex division of the New York Mercantile Exchange.
"Gold has risen so far in 2017, as volatility hits other assets and the negative returns to cash savings and bonds have worsened after inflation," Adrian Ash, head of research at BullionVault, told MarketWatch. "Versus the dollar, this marks gold's eighth first quarter gain of the last 10 years," he added.
Gold futures climbed 0.2% this week but moved exactly opposite in March, sliding 0.2%. The yellow metal scored a sharp quarterly increase of 8.6%.
In looking ahead to next week, Kitco News offers the following forecasts via their Wall Street vs. Main Street survey:
"Eighteen market professionals took part in a Wall Street survey. Nine voters, or 50%, see gold prices rising by next Friday. Four, or 22%, said lower, while five voters, or 28%, look for a sideways market.

Meanwhile,1,205 Kitco readers submitted votes in an online Main Street poll. A total of 723 voters, or 60%, are bullish. Another 305, or 25%, say that gold will fall, while 177, or 15%, are neutral."
Elsewhere, silver for May delivery rose 5 cents, or 0.3%, to close at $18.256 an ounce. The settlement is the highest since March 1 when prices ended at $18.489 an ounce. The precious metal notched a solid 2.9% weekly gain but still slipped by 1.2% in March. Silver prices rallied in the first quarter, however, leaping 14.2%.
In PGM futures on Friday, for the week and in March:
July platinum fell $3.30, or 0.4%, to $952.40 an ounce, for weekly and monthly declines of 1.6% and 7.6%.

Palladium for June delivery edged up 65 cents, or less than 0.1%, to $798.15 an ounce, dropping 1.9% on the week yet surging 3.4% in March.
The two metals posted respective quarterly gains of 5.2% and 16.8%.
London Precious Metals Prices
London precious metals prices were mixed on Friday, for the week and in March but higher for the first quarter. In comparing their levels from Thursday PM to Friday PM:
Gold declined $3.95, or 0.3%, to $1,244.85 an ounce.
Silver shed 4 cents, or 0.2% to $18.06 an ounce.
Platinum declined $14, or 1.5%, to $940 an ounce.
Palladium added $2, or 0.3%, to $798 an ounce.
In their weekly results, silver tacked on 2.4% while the others registered losses of 0.2% for gold, 2.5% for platinum and 2.2% for palladium.
In London metal prices for March, the declines included 0.9% for gold, 1.2% for silver, and 8.6% for platinum. Palladium jumped 2.2%.
As for the quarter, their advances totaled 7.4% for gold, 11.2% for silver, 3.6% for platinum and 18.1% for palladium.
US Mint Bullion Coin Sales in 2017
March sales of U.S. Mint American Eagle and Buffalo bullion coins were mixed from February — quicker for silver coins and slower for gold coins, and their monthly and quarterly levels fell sharply from those of a year ago. In headline comparisons:
American Eagle gold coins tallied to 21,000 ounces, dropping 23.6% from the 27,500 ounces sold in February and falling 44.7% from March 2016 when sales reached 38,000 ounces. For the first quarter, sales at 166,000 ounces are 32.4% lower than the 245,500 ounces delivered during the first three months of last year.

American Eagle silver coins reached 1,615,000, up 32.9% from their February total of 1,215,000 but off 60.7% from the 4,106,000 ounces delivered in March of last year. 2017 Silver Eagle sales at 7,957,500 are 46.4% lower than the 14,842,500 coins sold through the same time frame in 2016.

American Buffalo gold coins moved up by 8,500 ounces, marking declines of 43.3% from February sales of 15,000 ounces and 21.4% from the 7,000 ounces sold in March 2016. Quarterly sales at 55,500 ounces are 7.5% lower than the 60,000 ounces sold during last year's first quarter.

America the Beautiful Five Ounce Silver Bullion Coins rose by 1,000 ounces in March after climbing by 97,500 ounces in February. Sales from both months came entirely from Iowa's Effigy Mounds National Monument silver coin. It launched on Feb. 6 as the first 5 ounce release of this year. Last year's first 5 ounce piece, depicting Shawnee National Forest in Illinois, debuted on Feb. 1 and achieved sales through March of 525,000 ounces.
Below is a sales breakdown of U.S. bullion products with columns listing the number of coins sold during varying periods. Products with an asterisk (*) are no longer available.
US Mint Bullion Sales (# of coins)
Friday Sales
Last Week
This Week
Feb Sales
Mar Sales
2017 Sales
$100 American Eagle 1 Oz Platinum Coin
0
0
0
0
0
20,000
$50 American Eagle 1 Oz Gold Coin
0
8,500
1,500
21,000
16,000
123,500
$25 American Eagle 1/2 Oz Gold Coin
0
0
0
5,000
1,000
25,000
$10 American Eagle 1/4 Oz Gold Coin
0
0
2,000
4,000
4,000
44,000
$5 American Eagle 1/10 Oz Gold Coin
0
5,000
0
30,000
35,000
190,000
$50 American Buffalo 1 Oz Gold Coin
0
4,000
1,500
15,000
8,500
55,500
$1 American Eagle 1 Oz Silver Coin
0
795,000
320,000
1,215,000
1,615,000
7,957,500
2017 Effigy Mounds 5 Oz Silver Coin
0
0
200
19,500
200
19,700
2016 Shawnee 5 Oz Silver Coins*
–
2016 Cumberland Gap 5 Oz Silver Coin*
–
2016 Harpers Ferry 5 Oz Silver Coin
0
0
0
0
0
0
2016 Theodore Roosevelt 5 Oz Silver Coin*
–
2016 Fort Moultrie 5 Oz Silver Coin
0
0
0
0
0
0