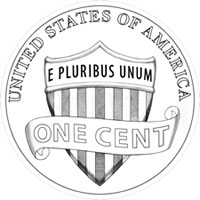 Stating the obvious for anyone near Washington, D.C., the planned Thursday coin exchanges at the Union Station and the U.S. Senate's credit union for the new 2010 Lincoln Shield Cent have been canceled. Information is not available at this time as to whether the exchanges will be rescheduled.
The Washington area has been hit by a fierce winter storm for the second time in less than a week. For the first time in history, the federal government on Thursday closed for a fourth straight day. The DC winter has already entered the record books for the snowiest ever, surpassing the 54 inches that blanketed the city in 1898-1899. Highways, schools, flights and mass transit have been shut down.
The official penny release ceremony will still occur on Thursday, February 11, 2010 at the Abraham Lincoln Presidential Library and Museum in Springfield, Illinois. US Mint Director Ed Moy and staff were already in Springfield by Wednesday, and ran on schedule a special forum for coin enthusiasts that was very open and often informationally spellbinding.
The ceremony for the official launch of the 2010 Lincoln "Preservation of the Union" cent design will begin at 9:30 AM Central Time. The museum will open its doors at 9:00 AM.
The new penny reverse is emblematic of President Lincoln's preservation of the United States of America as a single and united country. Designed by Lyndall Bass and engraved by Joseph Menna, it features a union shield with a scroll draped across it bearing the inscription E PLURIBUS UNUM. The 13 vertical stripes of the shield represent the states joined in one compact union. The design will appear on one-cent coins from this year forward.
CoinNews will report on the release ceremony later on Thursday. The new information made available at the coin forum will follow.