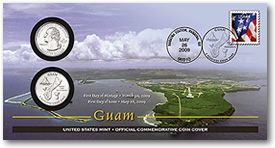 Guam Quarter Official First Day Coin Covers are now available at the US Mint for the price of $14.95, plus $4.95 for standard shipping and handling.
The limited 25,000 edition cover includes two Guam quarters struck on the first day the coins were minted. One quarter-dollar is from the Mint's Denver facility while the other was produced in Philadelphia.
The reverse design, by United States Mint Sculptor-Engraver Jim Licaretz, features an outline of the island of Guam, a flying proa (a seagoing craft built by the Chamorro people) and a latte stone (an architectural structure used as the base of homes and built all over the island for millennia).
An attractive display card housing the two quarters includes a 44-cent Flag stamp and a postmark of May 26, 2009, Hagatna, GU, marking the day the quarters were released to the public.
The Guam quarter is the third of six coins issued in the 2009 District of Columbia and U.S. Territories Quarters Program. The other five quarter-dollars commemorate the District of Columbia, Guam, American Samoa, the U.S. Virgin Islands and the Commonwealth of the Northern Mariana Islands.
Noteworthy to collectors is that Guam mintages are exceptionally low, with just 42,600,000 coins struck in Denver and 45,000,000 in Philadelphia. While the figure may seem high to the casual observer, it is a mere shadow compared to any single state quarter mintage.
The first two 2009 quarters are still available in Official First Day Coin Covers for the same $14.95 price. According to the latest sales figures provided by the US Mint and with an effective date of Sunday, July 26, the DC quarter cover has sales of 13,291 while the Puerto Rico quarter cover stands at 8,967.
Guam quarter cover order information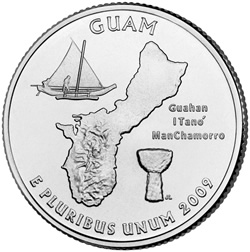 Orders may be placed online at the US Mint page:
2009 Guam Official First Day Coin Cover
The covers may also be purchased through the Mint's toll-free number, 1-800-USA-MINT (872-6468). Hearing- and speech-impaired customers may order by calling 1-888-321-MINT (6468).
Original Mint artist renderings and descriptions for each quarter may be found at 2009 Quarter Design Images. Additional quarter program information is provided by the Mint here. Read also the Guam First Day Cover issue Mint announcement.
In related quarter news this week, the US Mint began issuing American Samoa quarters in bags and rolls on Monday. The quarter-dollars are the 4th coin released in the 2009 DC & US Territories Quarters Program.