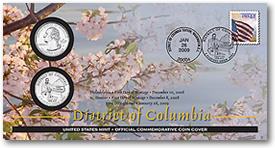 District of Columbia Official First Day Coin Covers are now available at the United States Mint for the price of $14.95, plus $4.95 for standard shipping and handling.
This year the production run is limited to 25,000, which is down from the 35,000 issued in prior years. The cover includes two DC quarters with a reverse design featuring the image of internationally renowned composer and musician Duke Ellington seated at a grand piano. (Designed by Joel Iskowitz and sculpted by Don Everhart.)
The display card housing the two quarters includes a cancelled 42-cent Flags 24/7 stamp and a postmark of January 26, 2009, Washington D.C., marking the day the quarters were released into circulation. One quarter is from the Mint's Denver facility while the other was struck from Philadelphia.
The DC quarter is the first of six coins released in the 2009 District of Columbia and U.S. Territories Quarters Program. The other five quarter-dollars commemorate the Commonwealth of Puerto Rico, Guam, American Samoa, the U.S. Virgin Islands and the Commonwealth of the Northern Mariana Islands.
2009 quarter production has plunged, with only 172,400,000 of the DC quarters minted for circulation. While that may seem apparently high, it is a mere shadow compared to any of the state quarters minted.
Ordering information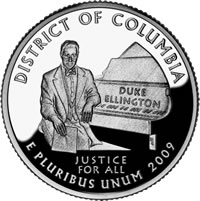 Online orders for the covers may be placed on the U.S. Mint page:
2009 District of Columbia Official First Day Coin Cover
The covers may also be purchased through the Mint's toll-free number, 1-800-USA-MINT (872-6468). Hearing- and speech-impaired customers may order by calling 1-888-321-MINT (6468).
Original Mint artist renderings and descriptions for each quarter may be found at 2009 Quarter Design Images. Additional quarter program information is provided by the Mint here.
Upon the conclusion of the DC & US Territories Quarter Program, the Mint will begin striking Park Quarters for 2010 and beyond.