Gold edged higher Monday during a volatile session where the U.S. dollar struggled early but recovered late against several world currencies. Platinum surged ahead while silver topped $14 an ounce for a short time before ending the day a penny shy of the mark. In other market news, crude-oil prices along with U.S. stocks posted modest gains.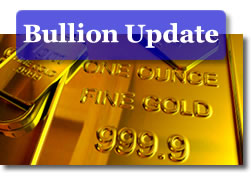 In New York trading futures for bullion:
Silver for September delivery rose 11.5 cents, or 0.8 percent, to $13.99 an ounce. The metal reached an intraday high of $14.09.

Gold for August delivery gained 40 cents, or 0.04 percent, to $953.50 an ounce — the highest level since June 11.

October platinum surged $31.10, or 2.6 percent, to $1,222.50 an ounce.
Notable precious metal quotes of the day follow:
"Gold's continued consolidation above $947 suggests further upside momentum," Ralph Preston, a Heritage West Futures Inc. commodity analyst in San Diego, was quoted on Bloomberg.
"Gold's immediate task is to convincingly take out overhead resistance at this $960 area, and proceed without hesitation to at least the $975 level," wrote Jon Nadler, senior analyst at Kitco Metals Inc. "Absent that feat, the $930s lie in wait."
"The precious complex closed last week close to, and in the case of silver and palladium, on the week's highs as markets generally reflected a more upbeat tone and increasing risk appetite," James Moore, metals analyst at the London-based firm Bullion Desk, was quoted on MarketWatch.
In London bullion, the benchmark gold price was fixed $3.50 higher earlier in the day to $955.00 an ounce. Silver gained 28 cents to $14.06 an ounce. Platinum was adjusted $25 higher to stand at $1,211.00.
Gold, considered a hedge during times of high inflation and economic uncertainty, tends to follow oil and move opposite to the U.S. dollar. A rising greenback makes dollar-denominated commodities, like bullion, more expensive for holders of other world currencies.
Oil and gasoline prices
Oil rose slightly and on Monday "after a choppy trading session, as rising U.S. stocks boosted sentiment in the energy market. " wrote Polya Lesova of MarketWatch.
"The key influences for crude right now are equities, technical buying and support from the dollar," Andrey Kryuchenkov, an analyst at VTB Capital in London, was quoted on Bloomberg. "Oil has been riding a wave of positive sentiment, but after all these gains, it's time to consolidate," he added.
New York crude-oil for September delivery rose 33 cents, or 0.5 percent, to close at $68.38 a barrel.
AAA reported that the national average for unleaded gasoline rose eight-tenths of a cent to $2.500 a gallon. The price is 3.5 cents higher than last week, 14.8 cents less than a month back, and $1.47 lower than a year ago.
U.S. Stocks
U.S. stocks climbed, but just slightly on Monday and due to a late-day rally.
"There was a little more willingness to bid stocks up two weeks ago on positive earnings surprises," Wedbush Morgan's Michael James was quoted on Reuters. "You're seeing people less willing to do that now, given the move the market has had in the last two weeks."
The Dow Jones industrial average gained 15.27 points, or 0.17 percent, to 9,108.51. The S&P 500 Index climbed 2.92 points, or 0.30 percent, to 982.18. The Nasdaq Composite Index rose 1.93 points, or 0.10 percent, to 1,967.89.
Check out additional market resources at Live Bullion Spots, the Silver Calculator, U.S. Mint Collector Bullion Price Guide, and the Inflation Calculator.