Gold briefly reached a six-week high as it touched over $928 an ounce on Wednesday before falling to a respectable five-week high above $925. The yellow metal was spurred higher with the help of a falling U.S. dollar that hit a four-month low. In other commodities, silver, platinum and crude-oil struggled. U.S. stocks tumbled after lower than expected retail sales were reported by the government.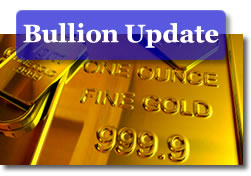 In New York trading futures for bullion:
Silver for July delivery fell 19.5 cents, or 1.4 percent, to $14.02 an ounce.

Gold for June gained $2.00, or 0.2 percent, to $925.90 an ounce.

July platinum declined $8.90, or 0.8 percent, to $1,123.20 an ounce.
In commenting that inflation may increase from government recovery action, Raymond Goldie, an analyst at Salman Partners Inc., was quoted on Bloomberg as saying the measures may generate "an excess of U.S. dollars in foreign markets, ultimately creating weakness in the U.S. dollar," and adding "Given the inverse relationship between the U.S. dollar and the price of gold and silver, this should provide a positive catalyst for the price of the precious metals."
In spot bullion, the benchmark London gold fix price gained $7.00 to $924.00 an ounce. Silver climbed 5 cents to $14.14 an ounce. Platinum was fixed $9.00 lower to $1,121.00.
Gold, considered a hedge during times of high inflation and economic uncertainty, tends to follow oil and move opposite to the U.S. dollar. A rising greenback makes dollar-denominated commodities, like bullion, more expensive for holders of other world currencies.
Oil and gasoline prices
Although the weekly Energy Information Administration (EIA) report showed on Wednesday that U.S. crude inventories unexpectedly declined, the data failed to help oil prices. Crude-oil for June delivery closed to $58.02 a barrel, falling 83 cents, or 1.4 percent.
In what has become too normal of news, prices at the pump again rose. According to AAA, the average price for unleaded gasoline jumped 1.9 cents to $2.267 a gallon, which is 15.7 cents higher than a week ago.
U.S. Stocks
Weaker than expected retail sales was cited as a catalyst for tumbling stocks. With little or no change expected, sales at retailers actually fell 0.4 percent in April, according to a Commerce Department report on Wednesday.
The Dow Jones industrial average declined 184.22 points, or 2.18 percent, to 8,284.89. The S&P 500 Index retreated 24.43 points, or 2.69 percent, to 883.92. The Nasdaq Composite Index fell 51.73 points, or 3.01 percent, to 1,664.19.
Check out additional market resources at Live Bullion Spots, the Silver Coin Melt Calculator, U.S. Mint Collector Bullion Price Guide, and the Inflation Calculator.