A weakened U.S. dollar, rising oil prices and forward charging U.S. stocks helped lift gold on Monday to a more than five-week high. The yellow metal reached higher than $955 an ounce before retreating slightly. Silver and platinum also gained.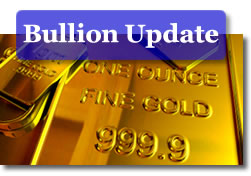 In New York trading futures for bullion:
Silver for September delivery jumped 22.2 cents, or 1.7 percent, to 13.625 an ounce.

Gold for August delivery rose $11.30, or 1.2 percent, to $948.80 an ounce. The contract rallied as high as $955.40 — a peak not seen since June 12.

October platinum gained $12.80, or 1.1 percent, to $1,188.90 an ounce.
Notable precious metal quotes on the day follow:
"You are starting to see the precious metals taking the lead on the positive rebound of the better-than-expected earnings coming out of the U.S. stock market, and the anticipation of reflation," Frank McGhee, head precious metals trader at Integrated brokerage Services LLC in Chicago, was quoted on Reuters.
"Gold is now trading like a currency and is rapidly becoming the preferred currency of choice," Lannie Cohen, the president of Capitol Commodity Services Inc. in Indianapolis, was quoted on Bloomberg. "Central banks throughout the world are printing money at a rapid pace, and soon investors will lose complete faith in paper currencies. At that time, within the next one to three years, gold will soar to $1,600 and beyond."
"The weaker U.S. dollar and rising oil prices gave gold another boost," Barbara Lambrecht, an analyst at Commerzebank, was quoted on MarketWatch. However, "a change in sentiment could potentially trigger a sharper price correction."
In London bullion, the benchmark gold price was fixed earlier in the day to $952.75 an ounce for an increase of $15.25 above Friday. Silver surged 58 cents to $13.74 an ounce. Platinum was fixed $16.00 higher to $1,181.00.
Gold, considered a hedge during times of high inflation and economic uncertainty, tends to follow oil and move opposite to the U.S. dollar. A rising greenback makes dollar-denominated commodities, like bullion, more expensive for holders of other world currencies.
Oil and gasoline prices
Oil rose slightly on Monday and for the fourth straight session "as dollar weakness and rising global equity markets buoyed sentiment among energy traders," writes Polya Lesova of MarketWatch.
New York crude-oil for August delivery rose 42 cents, or 0.7 percent, to close at $63.98 a barrel.
Prices at the pump edged lower. The national average for unleaded gasoline fell three-tenths of a cent to $2.465 a gallon, according to AAA. The price is 6.4 cents cheaper than last week, 22.7 cents less than a month back, and $1.61 lower than a year ago.
U.S. Stocks
U.S. stocks rose Monday as investors were optimistic about forthcoming second-quarter earnings reports. The Dow Jones industrial average gained 104.21 points, or 1.19 percent, to 8,848.15. The S&P 500 Index rose 10.75 points, or 1.14 percent, to 951.13. The Nasdaq Composite Index climbed 22.68 points, or 1.20 percent, to 1,909.29.
Check out additional market resources at Live Bullion Spots, the Silver Calculator, U.S. Mint Collector Bullion Price Guide, and the Inflation Calculator.