Gold and silver futures ended slightly lower Thursday while platinum managed to squeak out a small gain. As has been the story for several days, a stronger U.S. dollar was blamed for gold's retreat. Crude-oil advanced in volatile trading, and for the second straight day U.S. stocks ended mixed.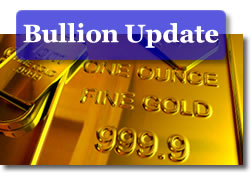 In New York trading futures for bullion:
Silver for July delivery fell 4 cents, or 0.3 percent, to $14.24 an ounce. It ranged from $14.13 to $14.40.

Gold for August deliver lost $1.40, or 0.1 percent, to $934.60 an ounce. It ranged from $930.50 to $944.00.

July platinum rose $2.40, or 0.2 percent, to $1,207.60 an ounce.
"An initially lackluster trading morning in precious metals gave way to more serious selling," wrote Jon Nadler, Sr. analyst at Kito.com. Gold is "showing signs that maintenance of above-$935 levels is becoming problematic" which could "engender testing supports at lower levels."
In London bullion, the benchmark gold price was set earlier in the day to $940.50 an ounce, which was $10.00 higher than Tuesday. Silver rose 17 cents to $14.19 an ounce. Platinum was fixed $5.00 higher to $1,206.00.
Gold, considered a hedge during times of high inflation and economic uncertainty, tends to follow oil and move opposite to the U.S. dollar. A rising greenback makes dollar-denominated commodities, like bullion, more expensive for holders of other world currencies.
In related silver and gold news this week, the US Mint has announced it will no longer ration bullion coins. More may be read via the CoinNews article US Mint Bullion Allocation Ends or from Silver Coins Today at US Mint Ends Silver Eagle Rationing Policy.
Oil and gasoline prices
Oil climbed Thursday following several reports which increased "hopes for an economic recovery," writes Polya Lesova of MarketWatch.
New York crude-oil for July delivery gained 34 cents, or 0.5 percent, to close at $71.37 a barrel. The contract had an intraday high of $71.75.
Gasoline prices continue to climb. AAA said the national average for unleaded gasoline is $2.685 — an increase of six-tenths of a cent over Wednesday. The price is 5.3 cents higher than a week ago and 37.1 cents more than last month.
U.S. Stocks
U.S. stocks were mixed for the second straight session. The Dow Jones industrial average gained 58.42 points, or 0.69 percent, to 8,555.60. The S&P 500 Index climbed 7.66 points, or 0.84 percent, to 918.37. The Nasdaq Composite Index lost 0.34 of a point, or 0.02 percent, to close at 1,807.72.
Check out additional market resources at Live Bullion Spots, the Silver Coin Melt Calculator, U.S. Mint Collector Bullion Price Guide, and the Inflation Calculator.