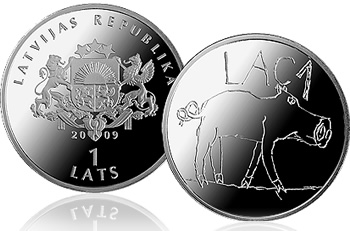 In a fresh approach to designing coins, a newly issued "piglet" coin was inspired and modeled after a six year old girl's drawing, the Bank of Latvia announced Thursday.
The art work of Emilija Adumane was selected from some four thousand children's drawings that were entered in the central bank's 2008 "My Dream Coin" contest.
The design replicated Emilija's drawing, down to her use of "lac" to spell the coin's 1 lats denomination.
The bank said the piglet is a "symbol of welfare, generosity and cheer, a star in children's books and films, as well as a favorite image in Latvian folklore and art."
Ilmars Rimsevics, the Governor of the Bank of Latvia, congratulated and presented the coin to a smiling young Emilija on the day of its release.
The obverse or heads side of the coin features the Republic of Latvia coat of arms, with "LATVIJAS REPUBLIKA" inscribed overhead and 2009 underneath. The edge includes two inscriptions LATVIJAS BANKA, separated by rhombic dots.
A maximum of 5,000 are to be struck in proof condition. Each has a diameter of 34 mm, weighs 20.00 grams and is composed of .925 fine silver.
The piglet coins are sold for 23.10 lats (~$44US) at Bank of Latvia's cashier offices.