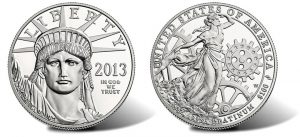 Prices for U.S. Mint numismatic platinum and gold coins are expected to rise Wednesday, Feb. 19, at around noon EST.
It is the Mint's policy to align platinum and gold coin prices with trending values in gold or platinum. Precious metals have been on fire of late, notching streaks of consecutive daily gains, and that has set up the likelihood of the following coin price adjustments:
Proof First Spouse Gold Coins from $840 to $865
Uncirculated First Spouse Gold Coins from $820 to $845
Proof Platinum American Eagle from $1,750 to $1,800
Coin News Update: U.S. Mint coin prices did rise Wednesday, and exactly to the levels shown above.
These new prices are based on a weekly average of the London gold fix landing between $1,300.00 to $1,349.99 an ounce and a weekly average of the London platinum fix of between $1,400 to $1,449.99 an ounce.
Wednesday's PM fixings are the ones to watch. Gold coin prices will move higher as long as the PM gold fix stays above $1,299.99 an ounce, and the Platinum Eagle will rise as long as the PM platinum fix keeps above $1,399.99 an ounce.
Generally, when pricing adjustments are necessary, the U.S. Mint will freeze ordering of the affected coins for about an hour before noon and then make them available at their new prices. This coin news article will get updated with what actually happens.
United States Mint numismatic products are available at www.usmint.gov/catalog.