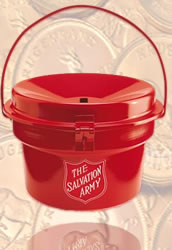 The holiday season highlights the generosity of gift giving. It is ever more pronounced this time of year with the abundance of coins dropped into Salvation Army kettles.
On the upper end for donations, South African Krugerrands are again popular, as are American Eagle gold coins. Both are known throughout the world, but the Kurgerrand — denominated in 1 ounce, 1/2 ounce, 1/4 ounce, or 1/10 ounce pure gold, instead dollar face amounts like eagles — has a unique holiday legend.
The legend says a World War II veteran started donating Krugerrands as a means of showing his gratitude for the Salvation Army's front line service during the war. After he died the legend says his children and others have kept the tradition alive during the holiday bucket drives.
The Salvation Army has been holiday fundraising for many years now. The kettle campaign began back in 1891 and is now used worldwide. It was started by Captain Joseph McGee who wanted to provide a free Christmas dinner for the poor in San Francisco. While the red kettle campaign ends soon, you can always donate online through the Salvation Army website.
US news articles of donations to Salvation Army kettles
Here are samplings of several red kettle coin donations reported within the last few days:
Anonymous donor drops Krugerrand in Salvation Army kettle
Times-Union Newspaper, IN
Salvation Army Capt. Jody Dalberg said he was surprised when he found a gold coin wrapped in a dollar bill while counting the money from the Salvation …
Yearly gold clanks into Salvation Army kettle
The Coloradoan, CO
Each year, a gentleman known only to the members of the Salvation Army drops off the gold coin and then purchases it back for more than its market value …
Salvation Army gets $1,000 coin
Topeka Capital Journal, KS
Salvation Army officials in Manhattan said their kettle campaign got a boost a few days ago when someone handed a bell ringer a gold American Eagle coin worth at least $1,000 …
Quincy Salvation Army finds goodies
WKOW-TV.com, WI
QUINCY, Ill. (WGEM) — The Quincy Salvation Army is finding a few extra goodies in its red kettles. Three silver dollar coins, two of which dated back to the late 1800s …
(Neb.)-Chadron Salvation Army Gets Unique Gift
KCSR, NE
CHADRON – It's been a good year for the Salvation Army, according to Charlene White, director of the Senior Volunteer Services at Northwest Community Action …
Bell-ringers strike gold with $750 coin in kettle
Clarksville Leaf Chronicle, TN
Red kettle coin counters, tired from a night of adding nickels and dimes, struck gold Dec. 9 with a donated coin worth $750 …
Gold coin dropped almost a week before Christmas
Frederick News Post, MD
The clink of a gold American Eagle coin was heard on Friday at the Wal-Mart on Md. 85. The coin, valued at $900, has been a Frederick tradition for at least five years, said Maj. Raymond Pruitt, Salvation Army Corps officer …
Coin donation to Salvation Army was intentional
Knoxville News Sentinel, TN
The Salvation Army has found the donor of a rare coin dropped in one of its collection kettles last week. In a press release, Salvation Army officials say …
Mysterious Benefactor Leaves Gold Coin in Salvation Army Kettle
MyFox Washington DC
"It turned out to be a gold American Gold Eagle coin, currently estimated to be worth $901 as of Friday. The coin contains one full ounce of gold …
Joy at bottom of kettle is pure gold
Denver Post, CO
The coin deposited on the mall on Wednesday is an 1893 Liberty $20 gold piece valued at $1170, the Salvation Army said. The army also reports that a bell …