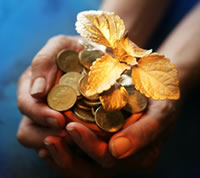 Earlier this week a generous and anonymous donor placed a one-half ounce American Gold Eagle coin into a Salvation Army kettle.
More reports of kind-hearted donations dropped into the traditional red kettles have followed.
Today, the Sioux City Journal reported donations of a quarter-ounce gold South African Krugerrand turning up outside a Kmart on Monday and then a one-ounce Krugerrand on Wednesday.
The second denotation included a note with a cute rhyme:
"This one makes two … hope it brings still more to you."
Another one-ounce American Gold Eagle was drooped in a kettle in Prescott, Arizona on Tuesday.
In some cities, receiving gold coins in kettles has been a tradition of sorts, so you're less likely to hear about them.
The kettle campaign actually began back in 1891 and is now used worldwide. It was started by Captain Joseph McGee who wanted to provide a free Christmas dinner for the poor in San Francisco.
At the time of this writing, one ounce of gold is $781.10. For the latest gold prices, please refer to the CoinNews Silver, Gold and Platinum page.