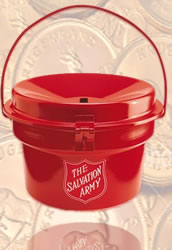 Dozens of Salvation Army bell ringers experienced an amplified feelings of generosity from gift givers this year. There were reported accounts of over 30 gold coins donated in Salvation Army kettles.
There's likely many more. It's nearly impossible to track special coin donations on the national scale through news accounts.
Anonymous donors in the Chicago area alone have reportedly given at least 15 gold and nearly 60 silver coins. Although each was given by someone with a generous heart, most don't make the news as there's no face and resulting story to associate with the person giving.
And let's not forget, the bread and butter of the red kettle campaign comes through the donations of every day people providing a bit of their pocket change before entering or leaving a store. There are hundreds of thousands of stories to be told.
But still, it's interesting to take in the uniqueness of kettle gifts that have included platinum, gold, silver and rare coins, gold bars, nuggets, rolled $100 dollar bills, rings, and even a gold tooth here and there.
The South African Krugerrand tops in popularity for gold coins donated. Its 1982 legend lives on…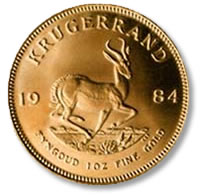 The most common gold coin donated has been the one-ounce South African Krugerrand. These coins are known world-wide and are somewhat unusual – they don't show a face value. They are instead denominated in 1 ounce, 1/2 ounce, 1/4 ounce, or 1/10 ounce pure gold.
One side of the coin has an image of Paul Kruger, an early president of South Africa. On the other side is a springbok, an antelope native to the country.
Why are more Krugerrands donated? Likely, because there're a common gold coin hoarded for investment purposes. Yet, you never know … Columbustelegram.com recounts a holiday legend of the Krugerrand. The legend says:
"…a World War II veteran started the tradition as a means of showing his gratitude for the Salvation Army's front line service during the war. After he died the legend says his children or others have kept the tradition of donating Krugerrands alive during the holiday bucket drives."
Salvation Army Donations are not just at the kettles
While the red kettle campaign ends today, you don't have to visit a store with a bell ringer's kettle to donate. The Salvation Army accepts online donations as well and it's all for the same good causes and needing families. According to their website:
Through your support of The Salvation Army, you are giving back to those who need it most in your community; helping provide toys for kids at Christmas, coats for the homeless, food for the hungry and many other social services throughout the year.

More than 83 cents of every dollar raised goes toward direct assistance to families in need in 5,000 communities across the country.
The Salvation Army has been conducting their holiday fundraising for many years now. The kettle campaign began back in 1891 and is now used worldwide. It was started by Captain Joseph McGee who wanted to provide a free Christmas dinner for the poor in San Francisco.
Several US news articles and accounts of donations to the Salvation Army kettles
Here are samplings of some reported donations in December:
CBS 47, CA – Dec 24, 2007
PENSACOLA, Fla. (AP) – Somebody in Florida with the holiday spirit tried to drop an expensive piece of jingle into a Salvation Army kettle. …
---
Indianapolis Star, United States – Dec 21, 2007
By Jason Thomas An anonymous donor plunked a 1-ounce gold Krugerrand into a Salvation Army kettle in Johnson County sometime Thursday evening, …
---
Sioux Falls Argus Leader, SD – Dec 22, 2007
By staff reports The Salvation Army received its first gold Krugerrand coin Thursday. It was placed in a red kettle bucket at ShopKo on 41st Street. …

---
The Tennessean, TN – Dec 22, 2007
By NATE KARLIN CLARKSVILLE, Tenn. — Salvation Army board member Laurie Hadley was sifting through the red kettle she collected from the Madison Street …
---
Tulsa World, OK – Dec 21, 2007
By GINNIE GRAHAM World Staff Writer An anonymous Christmas tradition continues with a Krugerrand slid through the slot of a local Salvation Army red kettle. …
---
Columbus Telegram, NE – Dec 21, 2007
By Eric Freeman efreeman@columbustelegram.com COLUMBUS — A special donation was discovered in bell ringer Don Schneider's Salvation Army bucket. …
---
Daily Republic, SD – Dec 21, 2007
Despite the annual appearance of a South African gold Krugerrand coin, the Mitchell Salvation Army is still in need of approximately $24000 to meet the 2007 …
---
Tucson Citizen, AZ – Dec 20, 2007
A 1-ounce gold Krugerrand was dropped into a Salvation Army red kettle Wednesday at a Walgreens at North First Avenue and East Tangerine Road, the Salvation …
WTHI, IN – Dec 20, 2007
Someone dropped a gold coin into a Salvation Army kettle. A Christmas mystery that's been going on for years in Paris. Bell ringer Kenneth Hamilton says it …
---
DesMoinesRegister.com, IA – Dec 20, 2007
Volunteers discovered more than mere pocket change when they began counting Wednesday's donations to the Salvation Army Red Kettle at the Ankeny Hy-Vee. …
---
Waterloo Cedar Falls Courier, IA – Dec 20, 2007
Valuable gold coins have been mysteriously turning up in Iowa Salvation Army kettles for the last several years. Organization officials say they don't know …
---
Livingston Daily, MI – Dec 20, 2007
Just as in previous years, Wittman, 69, dropped the gold in a kettle outside Wal-Mart in Genoa Township. "They are more for the common people," Wittman said …
---
Web Services Journal, NJ – Dec 20, 2007
One of those coins was a 1993 American Eagle gold coin that landed in the Red Kettle at the Walgreens at 13242 Wicker Ave. in Cedar Lake — the most …
---
United Press International – Dec 19, 2007
While the Waukesha County Salvation Army red kettle campaign had been struggling this year, the charitable effort improved when an unidentified individual …
---
The Coloradoan, CO – Dec 17, 2007
Worth more than $800, the South African gold coin has its way of appearing in the Salvation Army donation kettles each year since 1998 approximately a week …
---
HeraldNet, WA – Dec 14, 2007
Someone anonymously dropped a 1-ounce, 22-karat gold Krugerrand coin into one of the Salvation Army's red holiday collection kettles on Tuesday. …
---
Helena Independent Record, MT – Dec 14, 2007
By IR Staff – 12/14/07 Thumbs up, once again, to whoever dropped a gold coin into a Salvation Army bell ringer's kettle. Somebody has been giving gold coins …
---
FOX News – Dec 12, 2007
A local Salvation Army campaign got a huge boost when an anonymous donor dropped $3000 into one of the agency's red kettles. A man put 30 $100 bills into a …
---
Boston Globe, United States – Dec 7, 2007
AP Writer / December 7, 2007 BARRE, Vt.—When an anonymous donor dropped a rare Indian head coin into a Salvation Army kettle last year, Capt. …
---
WGAL.COM, Pennsylvania – Dec 6, 2007
AP Writer / December 7, 2007 BARRE, Vt.—When an anonymous donor dropped a rare Indian head coin into a Salvation Army kettle last year, Capt. …