A weaker US dollar drove gold prices higher Wednesday for the first time this week in New York. The yellow metal gained 4.4 percent. Silver and platinum futures fell 2.5 percent and 1.6 percent respectively.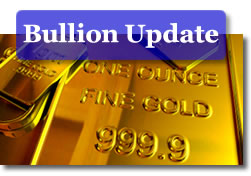 Lower gold prices helped increase its physical demand in the third quarter, the World Gold Council said in a report released Wednesday. Retail investment rose 121% to 232 tons (7.46 million ounces) in the third quarter, with "strong bar and coin buying reported in Swiss, German and US markets," the report said.
December crude-oil gained 20 cents, or 0.4 percent, to close to $54.59 and rise above yesterday's 22-month low. The average price for unleaded gasoline fell 2 cents to $2.047 a gallon, according to AAA.
December silver lost all of Tuesday's gains, plus 2 cents. Silver fell 24 cents to end at 9.31 an ounce.
January platinum fell $13.30 to settle at $823.70 an ounce. Gold for December gained $32.10 to close to $764.80 an ounce.
More from the World Gold Council report:
"Dollar demand for gold reached an all time quarterly record of US$32bn in the third quarter of 2008 as investors around the world sought refuge from the global financial meltdown, and jewellery buyers returned to the market in droves on a lower gold price. This figure was 45% higher than the previous record in Q2 2008.Tonnage demand was also 18% higher than a year earlier…

…Q3 saw a record US$18bn of consumer demand for gold jewellery with buyers returning to the market on lower price points, around and below US$800, demonstrating the underlying positive sentiment towards gold and its recognition as a store of value.

The biggest contributor to the positive trend was India which witnessed a rise of 65% in US$ value or 40 tons relative to previous year levels, with the Middle East, Indonesia and China all enjoying rises of more than 40% in value or 10% in tonnage.

There were however, strong declines in Western markets with the US down 9% in value and 29% in tons, and the UK down 5% in value and 26% in tons due to the overall decline in the retail market."
Gold, considered a hedge during times of high inflation and economic uncertainty, tends to follow oil and move opposite to the U.S. dollar. A rising greenback makes dollar-denominated commodities, like bullion, more expensive for holders of other world currencies. When prices are falling and economic activities are shrinking, gold prices tend to move lower.
Check out CoinNews market resources at Live Silver, Gold & Platinum Spots, the Silver Coin Calculator, U.S. Mint Collector Bullion Coin Prices, and the Inflation Calculator.