Gold and silver edged slightly higher on Tuesday as the U.S. dollar was pressured lower to include the biggest drop against the euro in six weeks. Platinum, however, fell modestly. In other markets, crude-oil jumped after rallying to overcome an earlier fall toward $66 a barrel while U.S. stocks closed with little movement.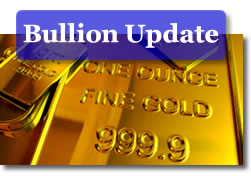 In New York trading futures for bullion:
Silver for July delivery rose 14.2 cents, or 1.0 percent, to $13.845 an ounce.

Gold for August deliver gained $3.30, or 0.4 percent, to $924.30 an ounce.

July platinum fell $3.70, or 0.3 percent, to $1,165.40 an ounce.
"The primary driver has been the rebound in the dollar," commented Robin Bhar, an analyst at Credit Agricole SA's Calyon investment-banking unit, on a Bloomberg Radio interview. "Gold can spike towards an all-time high this year and that would be because of the weaker trend in the U.S. dollar and ongoing stimulus measures."
In London bullion, the benchmark gold price was set earlier in the day to $920.75 an ounce, which was $1.50 higher than the fixing on Monday. Silver fell 6 cents to $13.77 an ounce. Platinum was fixed $17.00 lower to $1,169.00.
Gold, considered a hedge during times of high inflation and economic uncertainty, tends to follow oil and move opposite to the U.S. dollar. A rising greenback makes dollar-denominated commodities, like bullion, more expensive for holders of other world currencies.
Oil and gasoline prices
Oil futures rallied Tuesday "after hitting their lowest level in more than three weeks on expectations that crude inventories in the U.S., the world's biggest consumer of oil, have fallen," writes Polya Lesova of MarketWatch. New York crude-oil for August delivery gained $1.74, or 2.6 percent, to close at $69.24 a barrel.
In atypical fashion of late, prices at the pump declined. The national average for unleaded gasoline fell seven-tenths of a cent to $2.683 a gallon, according to AAA. The price is just nine-tenths of a cent higher than a week ago but 26.5 cents more than last month.
U.S. Stocks
U.S. stocks closed mixed on Tuesday as "as investors eyed a weaker-than-expected housing market report and geared up for the latest from the Federal Reserve," writes Alexandra Twin of CNNMoney.
The Dow Jones industrial average fell 16.10 points, or 0.19 percent, to 8,322.91. The S&P 500 Index climbed 2.06 points, or 0.23 percent, to 895.10. The Nasdaq Composite Index declined 1.27 points, or 0.07 percent, to 1,764.92.
Check out additional market resources at Live Bullion Spots, the Silver Coin Melt Calculator, U.S. Mint Collector Bullion Price Guide, and the Inflation Calculator.